Warner Bros.
As if there were any doubt, Lady Gaga confirmed to our sister site Variety in its latest cover story that she "one hundred percent" plans to perform "Shallow," the No. 1 hit anthem from "A Star Is Born," at the Oscars if it's nominated for Best Original Song. Hardly shocking since the tune is a smash and Gaga is, you know, a pop star who's no stranger to the Oscar stage, having performed a "Sound of Music" medley in 2015 and her nominated song "Til It Happens to You" in 2016.
What was less clear was if her "A Star Is Born" other half Bradley Cooper would join her for the duet. While some actors are game to perform nominated songs at the Oscars (see: Amy Adams crooning "Enchanted" tunes in 2008), others have said, "Thanks, but no thanks," like Ryan Gosling and Emma Stone, whose "La La Land" tracks "City of Stars" and "Audition (The Fools Who Dream)" were performed by their co-star/actual musician John Legend at the 2017 ceremony.
SEE Lady Gaga head to win Best Original Song Oscar now that 'Shallow' is only 'A Star Is Born' submission
Fortunately for Jackson-Ally shippers, Cooper is totally down to perform, which is probably also not that surprising since he learned to play guitar for and sang live in the movie. He's so pumped about the chance that he's already planning the performance.
"We talked about that actually, because I'm such a maniac," Cooper told Variety. "I started texting her the whole pitch of how we should do it. So we'll see. There might be a cool, unorthodox way we could perform it."
Hmm, what could this entail? Here are six "cool, unorthodox" suggestions for Gaga and that maniac Bradley Cooper to consider.
1. Cooper will sing in his actual voice
He dropped a full octave to mimic Sam Elliott's guttural rasp. What does the real Bradley Cooper sound like?!
2. They'll recreate Cooper being the one person in a room of 100 people believing in Gaga
Gaga's go-to "A Star Is Born" anecdote is — all together now — "There can be 100 people in the room and 99 don't believe in you, and just one does, and it changes your whole life." It's like she's wired to say it in every in interview, and poor Cooper has given up on acting touched when she recites it. You know she definitely knows about all the memes and jokes, so it'll be the perfect, cheeky way to punctuate her favorite awards season story.
3. Cooper will belt out "HAAAAAAAAA AH AH AH AHHH"
"Shallow" immediately became iconic the second Gaga grabbed the mic and warbled "HAAAAAAA AH AH AH AHHH" in trailer. We don't know who, if any, of the song's four writers — Gaga, Mark Ronson, Anthony Rossomando and Andrew Wyatt — penned this series of emotional cries or if Gaga just unleashed it in the moment, but if they did write it, then they deserve every bit of that Oscar. The climactic wail is obviously synonymous with Gaga, but it'd be a great twist if it came out of Cooper.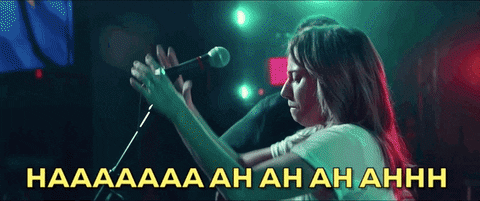 SEE Lady Gaga would be 14th woman to win the Best Original Song Oscar
4. Charlie Cooper will perform
The true star of "A Star Is Born" is Charlie Cooper, the actor's real-life dog who plays Jackson and Ally's pup and has his own impossibly (sorry, im-paws-ibly) poignant Oscar clip in the film. Hey, he can even belt "HAAAAAAA AH AH AH AHHH" so high that only, uh, dogs could hear.
5. They'll do a remix with the Ass Song
"Shallow" is THE song from "A Star Is Born," but the most talked-about track is "Why Did You Do That?", Ally's vapid single from her pop star makeover era that also deserves an Oscar for these two lines: "Why do you look so good in those jeans? / Why'd you come around me with an ass like that?" Is the song supposed to be bad? Is it supposed to be good? Is it supposed to be so bad it's good? It's the most intense debate of our time. Not even Cooper and Gaga agree on it (he likes it; she's… coy). Unfortunately, "Why Did You Do That?", which was written by Diane Warren, is not being submitted (only "Shallow" is being campaigned now from the film), but they should still give the people what they want: the Ass Song on the Oscar stage.
6. Cooper will pee himself
It happens when urine the deep end.
PREDICT the Oscar nominations now; change them until January 22
Be sure to check out how our experts rank this year's Oscar contenders. Then take a look at the most up-to-date combined odds before you make your own Oscar predictions. Don't be afraid to jump in now since you can keep changing your predictions until just before nominations are announced on January 22.
SIGN UP for Gold Derby's free newsletter with latest predictions