Forgotten in the mayhem of Bobby Bones and Sharna Burgess' "Dancing with the Stars" upset is another, um, questionable moment on Monday's finale. We're, of course, talking about Alexis Ren and Alan Bersten's extremely awkward kiss.
These two played coy last week when asked if they'd kiss on the live finale if they won. But who needs a Mirrorball trophy for motivation when you have a camera in your face? After their freestyle — their final dance — Bersten hugged and kissed Ren on the cheek, but she decided to capitalize on the moment and sent her lips on a scavenger hunt all over his face searching for his lips, which tried very hard but ultimately failed to avoid hers. She was totally into it, she was mortified, TPTB were loving it. The best part, though, is Erin Andrews sticking the microphone in their faces while this was going down. You couldn't have scripted a more cringe-worthy punctuation to this showmance.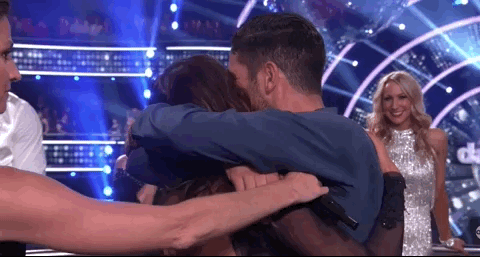 Ren and Bersten, who finished in fourth place, evaded questions about that kiss afterward. Asked by "Entertainment Tonight" (watch above) if that smooch made the night "extra special," Ren deflected with, "This whole night felt extra special."
SEE How the hell did Bobby Bones win 'Dancing with the Stars'? 7 reasons behind his stunning upset
They were slightly more forthcoming about their future. Yes, they're going to give this relationship a go in the real world, now that they're out of the pressure cooker of a weekly TV show. They've even met each other's families already. "Now we can be normal for a little while. I don't have to teach her five hours a day, so we can just go hang out," Bersten says. "We're really excited because now we can go hang out and do whatever we want."
But despite how hard the show pimped out the Renten showmance, the couple wants everyone to know they're not moving as fast as their rehearsal packages make it look like. The show aired a clip on the finale of her saying, "I've really found love," implying with Bersten, but Ren reveals that the producers edited down her actual quote.
"They cut it. 'I've really found love with myself,'" she laughs. "They cut it!"
"Liar!" Bersten jokes.
Oh, "Dancing," going down with this ship til the bitter end.
SIGN UP for Gold Derby's free newsletter with latest predictions