CBS
One of the best parts of Brett getting blindsided on Thursday's "Big Brother 20" was JC's reaction. Dude was not pleased about being an initial nomination and was probably worried and/or scared about getting evicted. But he definitely did not see Angela using the Veto on him and Tyler backdooring Brett coming. Just look at this face: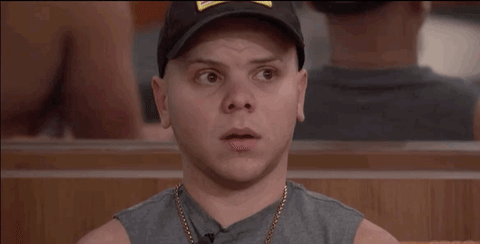 No one has looked this confused and perplexed since Faysal kept straining his two brain cells to figure out who flipped. This is the look of someone who just realized he has not been the puppet master he thought he was in the game. You'd think after this bombshell, and the fact that Brett, while never uttering the words "Level 6," not-so subtly suggested he was in an alliance with Tyler, Kaycee and Angela by saying he'd be loyal, would clue JC in and force him to change his game. But nope!
SEE 'Big Brother 20' spoilers: Who won second Week 12 Head of Household competition on #BB20?
After Angela won Thursday's HOH, JC told Tyler he expects to be on the block again with Sam (not wrong) and then chastised him for getting out Brett because it was a "huge f—ing mistake." "I don't care how great you think you are," he said. "If [Angela and Kaycee] actually told you that Brett said that just to get you to flip, they are f—ing amazing competitors."
SEE 'Big Brother 20' spoilers: Who did second Week 12 Head of Household nominate for eviction on live episode of #BB20?
JC continued to ream Tyler for not attempting to split up Angela and Kaycee, to which Tyler kept saying it wasn't "the right time." Tyler tried to make Brett the bad guy, telling JC that Brett told him that he wanted to take JC out because he doesn't think he could beat him at the end (Brett wanted the complete opposite: to keep JC because he could beat him), which JC didn't buy. He told Tyler that the blindside benefited only Tyler and not the both of them.
And therein lies JC's problem. Despite everything that went down in the double eviction, he still sees the game as "Me and Tyler vs. Them," which is incredibly ironic since he's the one most worried about Tangela's showmance pulling Tyler away from him. And he's delusional and arrogant enough to 1) still not see that Tyler, Angela and Kaycee are in an alliance, and 2) believe that he can still get Tyler back under his "control." "I am going to make a plan. I am going to save us," he told Tyler. "Keep your mouth shut and win the Veto. Don't f—ing do anything until I tell you."
SEE 'Big Brother 20' spoilers: Tangela's late-night confession makes their showmance official [WATCH]
Honestly, Tyler should get some award for never blowing up at JC every time he condescendingly talks to him. He has the patience of a saint. But he also has no reason to lose his cool because JC is playing exactly into his hands by still believing it's him and Tyler against the world instead of, say, strategizing with Sam to save themselves and target Level 6. Tyler stroked JC's ego even more by sayin he didn't like how close JC was getting to Brett. "That's what happens to side hoes," he said. "Nobody replaces me." JC: "That's the real reason. You just got jealous."
The good news for JC is that Sam's the target this week, and since Kaycee won Veto and kept the nominations the same, Sam is going. The bad news is even if he does realize that he's not Tyler's No. 1, he'll have to win HOH or Veto to save himself, and we know how great (not) he is at comps.
SEE 'Big Brother 20' spoilers: Who's going to lose the Week 12 early eviction vote?
JC is making an attempt to feel out Kaycee, though, telling her Monday night that she will be safe if he wins HOH and advising her to think through her moves. "I don't have any other affiliation. I'm seeing what's going on in the house," he said. "I'm just telling you to be a little bit smart." Little does he know, if he doesn't win HOH or Veto, he's about to have a bomb dropped on him: Level 6 will tell him about Level 6, and all three of them are salivating at the thought.
"We were just saying we cant wait until he finds out about Level 6," Kaycee said on Sunday. "Yeah, it's going to be a great f—ing day," Tyler replied.
SEE exclusive predictions: Who will win 'Big Brother'?
Be sure to make your predictions to influence our reality TV racetrack odds. You can keep changing your predictions until just before the next live episode airs on CBS. You'll compete to win a spot on our leaderboard and a $100 Amazon gift card. See our contest rules and sound off with other fans in our reality TV forum. Read more Gold Derby entertainment news.
SIGN UP for Gold Derby's newsletter with experts' latest predictions