Sam has done some crazy stuff on "Big Brother 20," but her pitch to Faysal on Sunday morning on the live feeds might top it all. After Brett won the Veto on Saturday, she decided she'd try to convince Fessy to put up Haleigh as the replacement nominee next to Scottie, which is already crazy. But wait, it gets better.
"If you put Haleigh up as a replacement nominee, I'll quit smoking if she goes home," Sam told Fessy. "If Haleigh goes home, I'll quit smoking and I'll pinky promise you."
SEE 'Big Brother 20' spoilers: Week 8 Power of Veto ceremony results on #BB20 and what they mean for August 23 eviction
Yes, that's right. The deal she's offering Fessy is that she would quit smoking. No protection for him in the game or anything, but protection for her lungs. Fessy was obviously taken aback and was reluctant to the idea (the putting up Haleigh part, not the quit smoking part), but Sam kept pushing. She insisted that Haleigh's coming for her and doesn't have Fessy's back because, she claimed, in the all-girls alliance, Haleigh, Bayleigh and Rockstar wanted to put up Fessy and Scottie. Sam said she didn't think that was right because Fessy had just used the Veto on Haleigh.
SEE 'Big Brother 20' spoilers: Who won Week 8 Power of Veto competition on #BB20 and what does this mean for August 23 eviction?
"It would be very smart [to put Haleigh up] and she would throw you up so quick, fast, in a hurry," she said. "If she goes home, I'll quit smoking on national TV. Me and you will take all my cigarettes in the storage room and get rid of them. You'll be saving my life."
Fessy brought up the fact that he and Sam have never talked game before, but she dismissed it, saying she decided she wants to start playing now and that he can trust her because she's always been straight with him. Haleigh, she argued, is not trustworthy because she's using him to her advantage and is nothing but "dead weight." "She's using you as a body double because she can't win these physical competitions. I would use you as a teammate. She's using you as a tool and that's not fair," Sam said. "You're really gonna give her a free ride so she can throw you away like some used tissue."
This went on for 30 minutes, with Sam asserting that Haleigh would applaud Fessy for the move (lol) and that if the game came down to Sam and Fessy, she'd throw it to him (lol). For all of Fessy's faults, you have to give him credit for staying cool and not laughing in Sam's face. "Hoo wee, I didn't see this coming," he said. "Sam, this is a crazy offer. I didn't see this offer coming." He told her he needs to think about if jumping ship from Haleigh to Sam is the best for his game. Sam, however, wouldn't relent and kept trying to force him to pinky swear — her form of unbreakable contract in the house — and reiterated how he'd be extending her lifespan. "If you put her up and she goes home, I'll quit smoking and I'll be a better person and I'll live longer," she said. But he stood firm and wouldn't lock pinkies.
Sam eventually let him go without the pinky swear after he promised he'd let her know what he'd do after he's thought about it. They hugged it out and Fessy gave us this amazing "WTF?!" to the camera: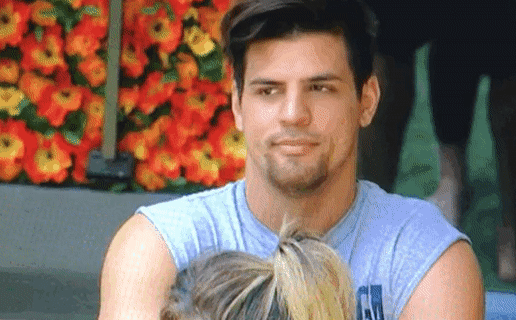 Sam wouldn't give up though. Later in the day, after Haleigh didn't volunteer to be a Have-Not even though it was her turn, Sam cornered Fessy in the storage room and shoved her pinky in his face again. He refused again and gave us another epic reaction.
Sam points out to Fessy that Haleigh didn't volunteer to be a HN. Then, pushes for the pinkie promise nom ????????‍♀️ #BB20 pic.twitter.com/NmUV8aU9Bq

— . . d r e . . #bb20 (@LostNRealityTV) August 19, 2018
This was truly wild. And Fessy's so dimwitted that at a certain point, you're like, "This is so crazy, but could it actually work?" Perhaps if puppet master JC had suggested it, it would have. But like most things Sam-related, this came out of nowhere, but Fessy obviously wouldn't throw up the person he's been trying to showmance for the past 61 days. He may have nominated the third person remaining in his alliance out of jealousy, but he's not that dumb. Fessy later told people, including Haleigh, about Sam's pitch, and he admitted to Scottie he's thought about throwing up Sam instead.
SEE 'Big Brother 20': Do you want Brett or Scottie evicted? [POLL]
Fessy: Sam's whole thing kind of freaked me out.
Scottie: Yeah, it comes out of nowhere.
Faysal: I wasn't considering putting her up, then she said all of that.
Scottie: [Sam] thinks she is going to play fucking coy around here and be everybody's friend. "I don't know the game." She got recruited. You don't get recruited for nothing.
As insane as Sam's pitch was, Fessy is not going to put Sam up because of it. He still wants Scottie out and Kaycee offered herself as a pawn. Because, you know, he doesn't care about Sam living longer.
SEE exclusive odds: Who will win 'Big Brother'?
Be sure to make your predictions to influence our racetrack odds. You can keep changing your predictions until just before the next live episode airs on CBS. You'll compete to win a spot on our leaderboard and a $100 Amazon gift card. See our contest rules and sound off with other fans in our reality TV forum. Read more Gold Derby entertainment news.
SIGN UP for Gold Derby's newsletter with experts' latest predictions