Sonja Flemming/CBS
Time is running out for Tyler and Kaycee to tell JC about their final two deal and Level 6 before Wednesday's "Big Brother 20" finale. Since Kaycee won Part 2 of the HOH comp on Saturday, virtually ensuring she and her ride-or-die Tyler, who won Part 1, will be in the final two, they have debated long and hard about when to tell JC since he could just find out live on the finale when one of them cuts him in third place. But they have finally settled on a plan.
While JC was showering around 11:25 p.m. PT Tuesday — their last night in the house (sob) — Tyler and Kaycee decided that it's better to tell JC before the finale instead of blindsiding him during it. Tyler suggested they do it in the afternoon "as close to the show as possible." "He'll be pissed, but…" Tyler said. Understatement of the year.
SEE Breaking down the 'Big Brother 20' jury votes: Who will be the most bitter of them all?
"We can just talk to him and tell him we're sorry. Give us time so he's not like shocked. It's more of like, we can talk to him about it," Kaycee said. "We'll tell him we have something to tell him, that we both care about him and we want to let him know."
Tyler feels that they "owe that" to JC, who still thinks Tyler will honor their final two deal. "We've been in here 99 days. He doesn't deserve to be blindsided. He's done a lot for us," he said.
The downside of this plan — for us — is that the live feeds will be off when they tell JC and we won't be able to enjoy JC's live reaction. Maybe it'll look something like this with 100 percent more rage: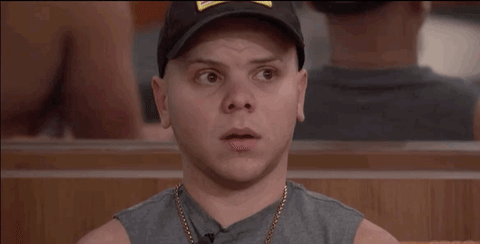 Which do you think he'll be more upset about: Tyler and Kaycee's final two or Level 6? The best part is that earlier on Tuesday, JC lamented that they never named their alliance. It probably took everything for Tyler and Kaycee to bite their tongues.
SEE Who should win 'Big Brother 20'? Let's analyze the final three
While we love a good blindside, it's smarter for Tyler and Kaycee to break it to JC before the show so he has time to process it, and they can explain themselves and their moves, which they wouldn't be able to do if one of them cuts him in third place with no warning. However, in a recent poll, only 26 percent of our readers think they should give JC a heads up; the other 74 percent are salivating for one last blindside.
SEE exclusive odds: Who will win 'Big Brother'?
Be sure to make your predictions to influence our racetrack odds. You can keep changing your predictions until just before the next live episode airs on CBS. You'll compete to win a spot on our leaderboard and a $100 Amazon gift card. See our contest rules and sound off with other fans in our reality TV forum. Read more Gold Derby entertainment news.
SIGN UP for Gold Derby's newsletter with experts' latest predictions