ABC
So that happened. Bobby Bones won "Dancing with the Stars." It's perhaps the only way a season this weird could end. At least Sharna Burgess now has her Mirrorball trophy on her fifth finals showing, although we doubt she ever thought she'd get it with him. And judging by the looks on everyone's faces when Tom Bergeron read the winner, nobody did.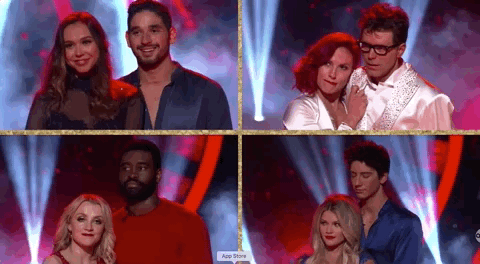 So how did the worst dancer of the final four — the guy with the eighth best average score this season — pull off the most shocking upset in "Dancing" history?
SEE 'Dancing with the Stars' recap: Who won the Mirrorball at the end of this wild, upside-down season?
1. His fan base
It was large and in charge. Bones' country music following makes Bachelor Nation look like child's play. We know the power and the passion of this voting bloc — just see winners from other shows, like "American Idol" and "The Voice" — and the reach that Bones has as a daily radio host can't be ignored. He may not be a household name, but he's well connected within the country world, and all those folks have been promoting Bones.
2. He energized his base
We're by no way saying Bones is this person, but he pulled a Trump. Throughout the entire season, Bones not only positioned himself as the underdog with no natural dance ability — a man of the people — but he also passive-aggressively slighted his rivals and the show by repeatedly posting on social media about how he's not a ringer and people should support him because he has to work harder and the show should be about recognizing non-dancers. It turned a lot of people off, but it could've just as well stoked a fire in others to back him. He knew the right things to say to get people in line.
3. He gained some of Joe "Grocery Store Joe" Amabile's fans
Most of Bachelor Nation probably stopped voting after Grocery Store Joe was eliminated, but some could've tossed their support behind Bones in a "bad dancers in solidarity" way.
SEE Bobby Bones' wacky 'Dancing with the Stars' freestyle got scores that upended the finale [WATCH]
4. The judges' ridiculous overscore of his freestyle
The judges always let the 10 paddles fly on the finale, but they usually know when not to bust them out if a routine or a performer is not tip-top. Bones' freestyle was fun, but he spent more time talking than dancing, and the dancing he did do was out of sync. That 30 was out of control and rendered the 30s that Milo Manheim and Evanna Lynch (and to a lesser extent Alexis Ren) got less important — not just figuratively but mathematically. Bones getting a 30, to go with the 24 for his first dance, shrunk the spread between him and the other three (there was a three-point difference between him and Ren, and a six-point difference between him and Manheim and Lynch). Given how huge his fan base is, a lower score might not have changed the outcome, but the 30 certainly made it easier for him to close the gap. Though in hindsight, since he won, maybe it's a good thing he got a perfect score — nobody has won without at least one perfect score.
5. Smaller viewership = fewer voters
"Dancing" is hardly the only series suffering ratings erosion as television viewing becomes increasingly fractured, but it does feel like just yesterday it was grabbing 20 million viewers on the reg. Now? It's averaging 7 million viewers this season (Season 25 last fall averaged 9 million). Fewer people watching means fewer people voting. The show has lost a whole faction of viewers who are fans of dance and who might be voting with a little more objectivity. That's why even when an underdog bad dancer made a final in the past, you knew they wouldn't actually win because sensible voting prevails and a contestant with good-to-great — if not the best — dance skill wins. But when you lose that core base of viewers who become fans of celebrities during the season, that makes it easier for built-in fan bases to dominate the vote. Manheim and Lynch could've won a few years ago against Bones.
6. Manheim and Lynch split the "best dancer" vote
These two were the best dancers remaining after Juan Pablo Di Pace's elimination. Many fans have said they would've been happy with either a Manheim or Lynch victory, but their appearances in the final could've hurt them both. Much like in an Oscar race, you want a clear alternative to the frontrunner for everyone will rally around. Yes, no one really knows how much of a frontunner Bones was in terms of fan votes, but there were people who were torn over Manheim and Lynch and split their votes between them.
SEE Bad news, 'Dancing with the Stars' fans: Tom Bergeron doubts the show will return in the spring
7. The one-night finale cut down voting time and ability
ABC reducing the finale to one night was suspect, especially since a two-night closer was in the plan less than a month ago. What was behind the change? Did TPTB realize there was no stopping the Bobby Bones Bandwagon? Sure, a two-night finale could've gotten Bones more votes, but it would've also greatly benefited everyone. The one-night finale meant voting was online-only during the live broadcast in the Eastern and Central time zones, aka Bones Country (no pun intended), which put whoever danced last at a disadvantage, if you're one of those people who waits to for everyone to dance before voting. Voting was open to the whole country, but folks in the Mountain and Pacific time zones had to vote blind. Not only that, but West Coasters might've still been at work or commuting or picking up a turkey for Thanksgiving while the show was going on. If there had been a second night, Manheim's and Lynch's sterling freestyles would've definitely picked up more votes overnight since more people would've, you know, had a chance to watch them and vote. Plus, producers would know exactly how the votes shook out after Night 1 and could clue in the judges so they know what to do for the Night 2 fusion dance. It's telling that there was no reaction shot from the judges' after Bones won.
SIGN UP for Gold Derby's free newsletter with latest predictions