ABC/Eric McCandless
Bobby Bones got some laughs with his impromptu flossing at the end of his foxtrot on Monday's "Dancing with the Stars," but one person was not amused by his rogue freestyle: his partner Sharna Burgess. "Right now, I'm mad at him," Burgess told "Entertainment Tonight" after the show.
The Nashville radio host tossed in the viral dance move right before he was supposed to sit down on a bench to end the elegant routine, set to Frank Sinatra's "New York, New York" for New York City night. Burgess facepalmed as he flossed, which left the judges searching for words to describe what they saw and asking if that was planned. "I was feeling it in my heart," Bones explained. "Len [Goodman], I knew you would love it."
They scored a 20, the same as last week when Bones jumped around the floor like a monkey on steroids after their jive.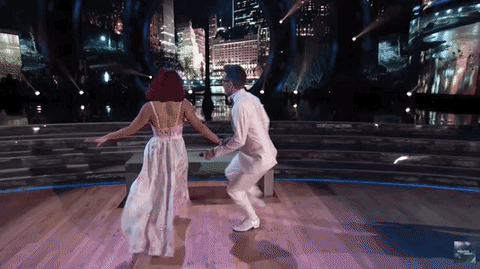 Bones told "ET" that he has no regrets about flossing even though Burgess "is ticked at me, and she deserves to be" because he just wants to entertain the people. "I'm also happy that people watched, and smiled. My goal is to make people smile the whole show, and to be a better dancer as the show climbs," he said. "I want to get better as the show goes on, but I want people to think that at any time I could do anything that's gonna make them smile."
SEE It's only Week 2 on 'Dancing with the Stars,' but Bobby Bones is too extra for his own good
Well aware that Bones' outsized personality and enthusiasm is a selling point for them, Burgess said that she doesn't want to control Bones; she just wants him to finish the routine and then he can go wild and floss all he wants. "I love the way he celebrates and I love what he brings to the dance floor, I just want him to finish the last move. That's all!" she said. "And then he can celebrate and party."
If Burgess is that upset with Bones, there's a chance we might see her reprimand him for flossing on Tuesday's Las Vegas night show, depending on what kind of behind-the-scenes or rehearsal footage the show incorporates. And then we'll see right away if he takes it to heart for their quickstep.
PREDICT 'Dancing with the Stars' now; change them until Monday night's show
Be sure to make your predictions so that the contestants can see how they're faring in our racetrack odds. You can keep changing your predictions until just before the next episode airs every Monday on ABC. You'll compete to win a spot on our leaderboard and eternal bragging rights. See our contest rules and sound off with other fans in our reality TV forum. Read more Gold Derby entertainment news.
SIGN UP for Gold Derby's free newsletter with latest predictions