ABC
After Bobby Bones' maniacal reaction to completing his first performance on "Dancing with the Stars" last week, we said this shtick could get old pretty fast if he keeps it up. Lo and behold it's Week 2, and it may have already.
Bones and Sharna Burgess predictably got the last slot, aka the pimp slot, on Monday's show. His foxtrot was decent but very rough around the edges. Still, he was having a blast, and to drive that home even more, he flossed at the end of the routine. And no, it was definitely not part of the choreography.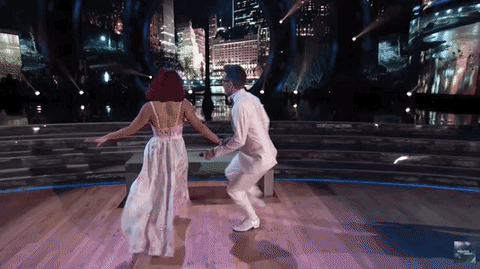 No one can deny that Bones is having the time of his life, and his excitement is contagious, and there is no doubt a segment of fans who are loving his demented brand of enthusiasm. But dancing and "Dancing" purists might also be perturbed and turned off by his antics, which now appear to be a weekly thing. Too much of something is never a good thing, and Bones is giving us a lot in just two weeks. If he's going to do some shenanigan in every single dance, it's going to get on some people's nerves, if it hasn't already. He's the like dancing embodiment of Matt Damon's Brett Kavanaugh: "I'm going to start at an 11. I'm going to take it to a 15 real quick!"
SEE 'Dancing with the Stars' Week 2 rankings: What did the judges get wrong on New York City night?
But Bones' greatest offense is not the flossing itself, but when he did it. It's one thing to lose your mind and mess around when the routine has ended, but to purposely freestyle in it before it is over is disrespectful to Burgess. She worked hard to put together that routine for him, to spotlight him — this is literally her job — and he goes and decides to floss without telling her. Her reaction is part amusement, part annoyance and part "Can you f—in' believe this guy?" As entertaining as it is for us to see "what he will do next," it cannot be easy for her not knowing if and when he'll pull a stunt that could make it seem like she's flouting choreography and dance style rules. Plus, maybe they would've scored higher than a 20 had he not flossed and utterly confused the judges.
The cynical possibility is that Bones is playing up his bonkers antics to compensate for his lack of technique, which is a legit approach to the show, but he should know that a little goes a long way. Also, finish the dance before you do anything crazy.
[interaction id="5bb39ec59426af0d4d218939″]
PREDICT 'Dancing with the Stars' now; change them until Monday night's show
Be sure to make your predictions so that the contestants can see how they're faring in our racetrack odds. You can keep changing your predictions until just before the next episode airs every Monday on ABC. You'll compete to win a spot on our leaderboard and eternal bragging rights. See our contest rules and sound off with other fans in our reality TV forum. Read more Gold Derby entertainment news.
SIGN UP for Gold Derby's free newsletter with latest predictions