Before Warner Bros. submitted 'A Star Is Born" in drama at the Golden Globes, Lady Gaga had been the overwhelming favorite to win Best Comedy/Musical Actress — and could very well win Best Drama Actress as well if the submission is approved. But as every person who's on the internet knows, this ain't her first rodeo with the Hollywood Foreign Press Association. Gaga famously won in 2016 for "American Horror Story: Hotel" and even more famously helped produce one of the greatest awards show moments of all time.
Gaga took home the Best Limited Series/TV Movie Actress Globe for her turn as The Countess over Kirsten Dunst ("Fargo"), Sarah Hay ("Flesh and Bone"), Felicity Huffman ("American Crime") and Queen Latifah ("Bessie"). As she made her way to the stage, she brushed up against Leonardo DiCaprio's chair. The actor, who won later that night for "The Revenant," clearly was not expecting something to bump into him and gave us a priceless reaction when he realized who it was who slinked past.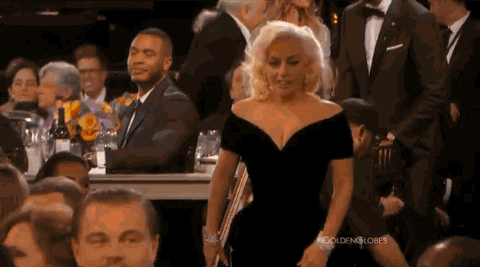 GIF via Giphy
Iconic. The side-eye makes it 290,034 times better. But DiCaprio wasn't being shady: He said afterwards that he merely didn't know what was behind him.
SEE 5 reasons why I knew Lady Gaga would soar in 'A Star Is Born'
"We were laughing about that afterwards. I actually had no idea who was passing me or what was going on, but that was a funny little bit that went around. We were laughing at it at the after party," he told ITV's "This Morning." "It's amazing what goes viral these days. I guess I'm of a different generation now. I have no idea where this stuff comes from or how it's even captured!"
The Gaga-Leo meet-cute has overshadowed her speech, in which she breathlessly thanked Ryan Murphy, her fellow cast members and family — and opened with a reference to another singer-turned-actress. "I feel like Cher in that John Patrick Shanley film 'Moonstruck' right now," Gaga said.
Cher, of course, won the Best Actress Oscar for 'Moonstruck,' beating Glenn Close ("Fatal Attraction"), who's the Best Actress Oscar favorite this year for "The Wife," slightly ahead of Gaga. Will history repeat itself?
PREDICT the Golden Globe TV nominations now; change them until Dec. 6
Be sure to check out how our experts rank this year's Golden Globe contenders. Then take a look at the most up-to-date combined odds before you make your own Golden Globe predictions. Don't be afraid to jump in now since you can keep changing your predictions until just before nominations are announced on Dec. 6.
SIGN UP for Gold Derby's free newsletter with latest predictions