Robert Voets/CBS
"Survivor: Edge of Extinction" has been quite stingy about offering clues as to how this super-secret (at least to the players who aren't voted out) new limbo-land twist filled with outcasts will figure in the main game. But Thursday's double-sized edition certainly revealed plenty. All six eliminated players — Reem Daly, Keith Sowell, Rick Devens, Aubry Bracco and Wendy Diaz — opted to hang out on the rather dismal island with hopes of returning.
As the preview showed for episode 7 showed, not only do the Kama, Manu and Lesu tribes merge next week. But the Edge of Extinction gang is back as well. Jeff Probst told Entertainment Weekly that what happens next is "epic."
But that opens up a question or two. Keith returns with a disadvantage, a knotted rope, that he can foist upon his "biggest threat." Chris found a bundle of sticks and some twine that he was told to use as practice –perhaps for fire? Rick, meanwhile, found an extra vote advantage that he sent anonymously to Aubry.
SEE 'Survivor' deleted scene: Kelley Wentworth's tribe sings 'Happy Birthday' as she turns 32 on the island [WATCH]
As it happens, Aubry — who also found her very first idol on her third season — was uncomfortable with her good fortune and would have rather remained an underdog. Instead, she was flimflammed by her conniving tribe mate Victoria Baamonde, who suggested that she, her and Wendy could form an alliance and go after the Manu guys, Eric Hafemann and Gavin Whitson, instead. As a result, Aubry failed to use either her idol or her extra vote in an epic blindside.
SEE Can you believe 'Survivor 38' actually wants us to feel sorry for 'Joey Amazing' — are you buying it? [POLL]
While Gold Derby poll respondents picked Aubry to be the Edge dweller they most wanted to see back in the game, it seems that even though she is still on the show, the extra vote and idol are null and void. Here is an image from Survivor Reddit of the note that came with her Idol: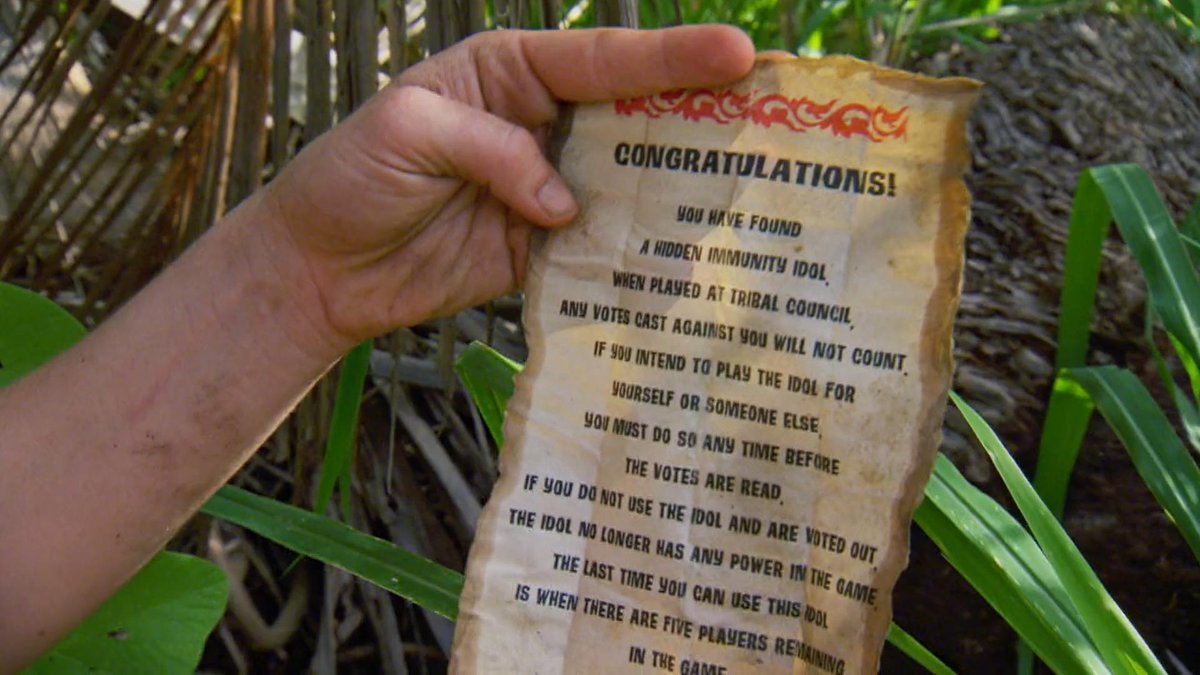 The final word on the matter comes from Probst, who confirmed to Entertainment Weekly that they are "Bye-bye. El gonzo."
SEE exclusive predictions: Who will win 'Survivor'?
Be sure to make your predictions to influence our reality TV racetrack odds. You can keep changing your predictions until just before the next episode airs on CBS. You'll compete to win a spot on our leaderboard and eternal bragging rights. See our contest rules and sound off with other fans in our reality TV forum. Read more Gold Derby entertainment news.