Looks like Marvel has taken a page out of another super secretive entity. The third and final trailer for "Avengers: Endgame" dropped on Thursday and it's as evasive as those "On the next episode of AMC's 'Mad Men'" previews. You know what we're talking about — those clips that show pretty actors making faces but don't actually tell you anything that's going to happen at Sterling Cooper Draper Pryce.
Well, half of the new "Endgame" trailer is recycled footage from the old movies and the earlier trailers. Honestly, it's kind of genius because they know it doesn't matter what they put in here (not that they would include a lot of plot-heavy stuff anyway — these people include fake footage that don't end up in the films all the time) because everyone and their mother is going to watch this and the movie to see how the (remaining) Avengers take down Thanos (Josh Brolin) once and for all.
SEE Marvel Cinematic Universe movies ranked: Is 'Captain Marvel' the best, the worst or somewhere in between?
The brief glimpses of new footage we do get include Hawkeye's (Jeremy Renner) mohawk haircut (dude, I know The Snap was hard, but…); tiny Ant-Man (Paul Rudd) lifting off from a pencil (to rewrite history?); the Avengers in snazzy new suits marching through the HQ (to go through the Quantum Realm probably); and four people vowing they'll do "whatever it takes" to avenge half the world's deaths. Oh, and since "Captain Marvel" is out now, they can finally show Carol (Brie Larson), who has a nice meet-cute with Thor (Chris Hemsworth) at the end. You know they excised her from the last trailer. Look at this gaping hole.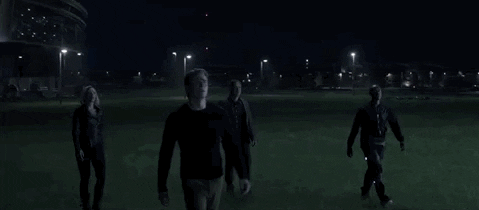 Marvel also released the official poster Thursday, which, as expected, only features the Avengers who were not dusted at the end of "Infinity War." But it also pretty much confirms what everyone fears/is emotionally preparing for: Captain America (Chris Evans) is probably/definitely dying. He's in the center of the poster (Robert Downey Jr. got the spot last year) and Evans is billed second behind Downey Jr. for the first time since the first "Avengers" film in 2012; he had since been credited fourth, with Hemsworth bumped to second.
Check out the new poster for Marvel Studios' #AvengersEndgame. See it in theaters April 26. pic.twitter.com/c4yyiShAqo

— Marvel Studios (@MarvelStudios) March 14, 2019
"Avengers: Endgame" opens Friday, April 26.
SIGN UP for Gold Derby's free newsletter with latest predictions