CBS
And here we thought the most interesting part of Thursday's episode of "Big Brother 21" would be Kemi Fakunle's eviction speech. Her speech exposing Nick Maccarone and Isabella Wang was straight fire, but it was expected. What was unexpected was Jackson Michie's hinky vote to evict Jessica Milagros. We all know what he was doing there — and it worked but also backfired.
Jackson was clearly going to pin the rogue vote on someone outside of Gr8ful and Nicole Anthony knew right away it would be her. In a frazzled a-ha moment afterward, she told live feeders the second she heard the final tally with the sole vote to evict Jessica, a lightbulb went off. Kemi even thanked her for the vote, but Nicole told her it wasn't her. But the single vote was the last thing she needed to realize the existence of Gr8ful.
"I was so caught up in my own head … that I didn't stop to look at the main picture. Oh my God, I'm such an idiot. Why am I such an idiot?" she berated herself.
"I heard rogue vote [and thought] 'Oh my God, somebody is pinning it against me. Oh my God, I think they are all together.' … I went to throw it [in the HOH comp], was shaking so bad and spazzed out," she explained. "We have to somehow detonate bombs so the eight go against each other. Otherwise I'm screwed. I'm so freaking stupid. Why am I so stupid? … It makes so much freaking sense. I'm officially one of the dumbest people ever and I didn't think I was that dumb. But I can fix this."
SEE 'Big Brother' episode 8 recap: Was Kemi or Jessica evicted?
Took you long enough, Nic. The only thing she's slightly off by is the dynamics of the eight. She thinks the core six are Jackson, Jack Matthews, Holly Allen, Analyse Talavera, Nick and Bella with Christie Murphy and Tommy Bracco lower on the totem pole. Just swap those last two duos and you've got it, girl. She also gave them way more credit than they deserve, believing that they all had a "role to play." "Bella's role was to get me, Jess and Kemi in on something, and then blow it up so they had an excuse to put us up," she said. "The mentality was everybody ropes in the little side people."
Nope, that was just Bella being a rat. Nicole knows she's in a bad spot since Nick won HOH because Kemi's speech would've helped had anyone besides Nick or Bella won, so now she has to figure out a way to survive this week and make sure people know she wasn't the rogue vote.
Jackson was already working on Operation Pin the Hinky Vote on Nicole. He casually mentioned to Nick that it may have been Cliff Hogg III, but that everyone believes it's Nicole, prompting Nick to say he might put up Cliff and Nicole instead of Cliff and Jess. Jackson then told Holly he was the sole vote and made her promise not to tell anyone, which was apparently enough foreplay for a make-out session.
Cliff denied to Bella, Holly and Sam that he was the single vote and also said he doesn't think it was Nicole either. Nicole went directly to Nick and Jackson to deny her involvement.
SEE 'Big Brother 21' spoiler: The Save Kemi campaign goes into overdrive as a new target emerges
"I feel like someone… " Jackson said. "Purposely did it," Nick finished.
"Yeah, that's how this game works," Jackson replied.
"I'm a very straight shooter. I would come out and be like yeah, ," Nicole insisted.
"I think it was Cliff," Nick said.
Nicole then chatted with Analyse and Holly, both of whom told her they don't think she was the rogue vote and said they want to work with her. Holly also assured Nicole she doesn't trust Nick and Bella. With no one believing Nicole was the hinky vote, the spotlight shifted to Cliff, made easier by his loud Cliff Notes and a bunch of people thinking he's America's Player, which Jackson is probably also OK with.
But by the end of the night, Bella had an epiphany of her own, telling Nick and Sam she thinks Jackson was the dissenter. "I think Michie might have done it. When I was downstairs, he was like, 'That vote sketches me out.' He was like, "It's definitely Nicole,'" she recalled. "Up here, he was like, 'It's definitely Cliff.'"
Nick concurred. "The reason I think it was Michie is cause he never talks game to me," he said. "He has been asking me, 'Who are you going to put up?' He kept bringing up the vote. He said, 'I think it was Nicole.' Sis and Holly don't seem in on it. I have this weird feeling that Michie did it. They want me to target Nicole."
But Nick doesn't want to take a shot at Jackson yet, so he's going to nominate Cliff and Jessica. If he wins the Panic Power in the last Whacktivity Comp and depending on its power, he might reconsider. "I am not mad if Jack is suspicious. He is the biggest threat to my game. I am not going to put him up," he declared. "He kept me safe last week. If I win the power and can hijack my own noms, you best believe I will. I will put up Jack and Michie."
Nick then promised Nicole that she will not be going up as an original nominee or a replacement. "I think someone did it to pin it on you. I think I know who it was," he told her. "I don't want to say it cause I don't know. I promise you that you are not going up this week. If I have to use a replacement, it's probably going to be Kat [Dunn]."
SEE 'Big Brother 21' spoiler: 2 houseguests are blowing up their own games because they can't keep their mouths shut
So Nicole has salvaged her week and possibly her whole game without really having to do much at all but be herself. Her good relationships with everyone and direct conversations helped her a ton in deflecting the hinky vote. Toss in Jackson's obvious seed-planting and Gr8ful having overheard Cliff's monologues, and she's looking OK right now.
Speaking of Cliff, Kemi told Nicole that Bella told her that Christie had overheard Cliff discussing The Fellowship of the Zing alliance. But it doesn't appear Nicole has told Cliff himself yet, but now she gets why the others have been acting weird toward her.
While all of this was going down, Kemi and Bella still hate each other and almost came to blows. If you care to watch, it was around 7:25 p.m. PT on the feeds. They both got in each other's face and pushed each other — not in an actual fight kind of way; Bella pushed Kemi to move because she was blocking her path and Kemi pushed back. Nick was so peeved at Kemi's speech that he didn't want her to be there for his HOH room reveal, but Kemi was there. They both tried to cover their asses and kept reiterating that they couldn't understand why Kemi would throw them under the bus like that because they were both there for her when she was upset.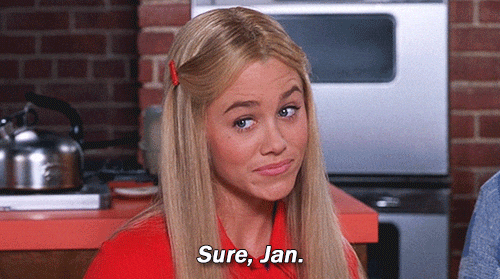 via GIPHY
Bella continued blab and came up with another tall tale to explain to Jessica about why she exposed Black Widows. It involved Kemi and Kat and Ovi Kabir, and it's not really important other than serve as confirmation that Jessica is as clueless as Ovi as to the house dynamics and gameplay, and that Bella is incapable of keeping her mouth shut. Honestly, at this point, I wouldn't be surprised if Bella actually believes all the lies she tells and stories she spins; they're that narcissistic.
Nicole is right that this week got worst-case-scenario'd with a Nick HOH. The good thing is that Nick and Bella are onto Jackson's hinky vote, but they're still in dark that they're out on the outs with Gr8ful, so Nick doesn't realize he has the chance to strike them first. Instead, he's going to nominate people who he'd need as numbers down the line once the Six Shooters cut Nick and Bella off.
PREDICT Who will win 'Big Brother'?
Be sure to make your predictions to influence our racetrack odds. You can keep changing your predictions until just before the next live episode airs on CBS. You'll compete to win a spot on our leaderboard and a $100 Amazon gift card. See our contest rules and sound off with other fans in our reality TV forum. Read more Gold Derby entertainment news.
SIGN UP for Gold Derby's newsletter with experts' latest predictions