Monty Brinton/CBS
Tommy Bracco told us that Cliff Hogg III and Nicole Anthony will "feel even worse" about falling for Jackson Michie's lie on "Big Brother 21" if either of them don't win. Well, one of them won't have the chance to now since Jackson won the Veto on Saturday and and will break his final three/two deal with Cliff by taking Holly Allen to the final three instead.
This is not really shocking to us — especially after Jackson's Diary Rooms in Sunday's episode in which he repeatedly said he would make whatever promises Cliff and Nicole want to hear but have no intention of following through — or even to Nicole, who has suspected something was a-brewin' when Jackson went hard on Tommy during that house meeting. In the wee hours of Sunday morning, she talked to live-feeders about how she didn't think Jackson would take Cliff and how she should've kept Tommy.
Nicole doesn't believe that Snackson will pick Cliff over Beth. She is explaining how much better odds of getting to F2 she would have had if she had brought Tommy to F4 instead of Beth. Nicole isn't as dumb as Cliff🤡. #BBNicole #BB21 #BBLF #BBTommy pic.twitter.com/3R0Gb6pDGo

— Big Brother Tea (@BB21Tea) September 15, 2019
By Sunday afternoon, Jackson told her he wasn't taking Cliff. He spun it as Cliff and Nicole's fault because he was never going to break their final four, but since Cliff and Nicole almost flipped to keep Tommy, he can no longer be a man of his word to people who didn't reciprocate it. They didn't actually break their word, but OK. Nicole was frustrated, and Jackson thought it was at him so he kept condescendingly lecturing her in that way that he does about his reasons and all, but Nicole was just frustrated at herself because she knew her instincts to keep Tommy were right. She called herself a "dodo" for bringing a showmance to the final three and knows she's screwed unless she wins the final HOH because Jackson and Holly are obviously going to take each other to final two.
SEE 'Big Brother 21' spoilers: Week 12 Veto results
Jackson asked Nicole not tell Cliff yet — he was going to tell him after Monday's Veto meeting — but Nicole gave zero f—s and told Cliff. He took it better than Nicole did in that "disappointed, but it's a game" way. "If I go out fourth, then fourth is OK," he said. "It would be nice to be up there for finale and all of that. If I'm not, that's OK. You are going to be final three."
Say what you will about Cliff's game and constant dealmaking and bad read on Jackson last week, but he's one of the more levelheaded people who's played the game ever. He doesn't freak out when he's in danger or irrationally lash out at people he think has "wronged" him. That's what age and life experience give you. He knows it's just a game.
After asking Nicole permission to talk to Jackson about it, Cliff does and agreed with Jackson when he said that Nicole is upset because Cliff is taking the bullet for her. They went back and forth on the 204 new deals they made last week in order to keep Holly in the house, loyalty and "keeping your word."
"I was unwaveringly loyal. However my word is my word with people that also reciprocate it. When I felt that I was getting burned, I'm going to say whatever I need to to keep her in this house," Jackson explained. "If all of that with Tommy hadn't unfolded, Holly wouldn't have had to throw that HOH. If things worked out the way that they did, I would have won the Veto. I'd be picking between y'all."
That last part is true, which was partially what Nicole was worried about. She knew Jackson would take Cliff over her to final three, so she wanted to even the playing field (while breaking up a showmance) by keeping Tommy to take out Jackson at final four.
Cliff was all "I don't agree, but I understand" and said he's not taking it personally. He relayed it back to Nicole that there's probably nothing he can do and he would vouch for her to win in jury if she's in final two. Also, imagine Tommy's reaction when Cliff walks into the jury roundtable. He'll have to resist the urge to be like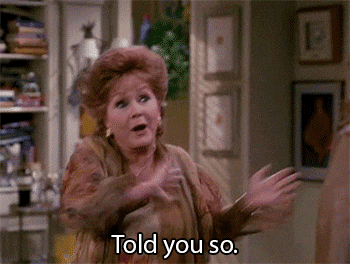 via GIPHY
Nicole reiterated that she thought Tommy was telling the truth, and Cliff finally agreed that they got played by Jackson. "He is good. The problem is, when we aligned with him, I really thought there would be at least one week when our side didn't win," Cliff said. "It didn't happen." Ah, the classic "let someone else get blood on their hands" game plan.
Nicole now thinks that Jackson's lie about Tommy — that he'd throw the HOH to Nicole and take out Cliff — was really Jackson's plan. Eh, not quite. "It disgusts me because I was so hellbent. 'Don't bring a showmance to final 4,'" she told feeders. "I played this whole game navigating and maneuvering. As a fan, I said, 'Don't do it,' and Cliff got in my head, I got in my head, they got in my head.
SEE 'Big Brother 21's' Tommy thinks Cliff and Nicole will 'feel even worse' about his eviction if they don't win
After a pity party, Nicole got some perspective — there are worse things in the world than being in the final three on a TV show with a showmance who lied to you — so she ain't throwing in the towel. Cliff, meanwhile, told feeders he still loves this game and that if it's Jackson and Holly in the final two, he might vote for Holly because she honored the deal with them. He'll still try to change Jackson's mind, but he knows it's unlikely.
It's wild to think how different last week and this week could've been had Jackson not eavesdropped on their conversation and had a lightbulb moment. That his entire plan worked out — and he won Veto so he can cut Cliff — is a big case for him winning the whole thing. Nicole and Cliff really have no one to blame but themselves. Nicole's instincts were correct about Jackson's lie and she should've stood her ground more with Cliff. But she's never been one to assert herself in the house (except for that amazing moment when she called Isabella Wang "uneducated"). It sort of felt like she was spooked after that gross bash-fest Unde9able had about her in Week 3.
Cliff ought to be kicking himself for being so married to his precious deals and not listening to Nicole. The thing was, Jackson was giving them an opening last week to evict Holly in as so many words, saying that he knows it's a game, and that he and Holly were playing separate games, etc. If Cliff hadn't clued in Jackson on the potential flip and they had just evicted Holly, sure, Jackson would've been upset, but he would be flying solo at that point against three people.
Cliff also tried to have his cake and eat it too, negotiating for Holly to throw the HOH and Veto, and then locking in (or so he thought) Jackson to take him to final three and then final two. Never once did he consider that the reason Jackson fought so hard to keep Holly was that he was going to take Holly this entire time. He was so concerned with securing a final two that he couldn't see the forest for the trees, and now he's going to pay for it.
PREDICT Who will win 'Big Brother'?
Be sure to make your predictions to influence our racetrack odds. You can keep changing your predictions until just before the next live episode airs on CBS. You'll compete to win a spot on our leaderboard and a $100 Amazon gift card. See our contest rules and sound off with other fans in our reality TV forum. Read more Gold Derby entertainment news.
SIGN UP for Gold Derby's newsletter with experts' latest predictions