CBS
After a quiet couple of days, late-night drama erupted in the "Big Brother 21" house on Wednesday — seriously, it didn't end until like 4:30 a.m. PT Thursday — because, once again, no one can keep their mouths shut.
Kathryn Dunn mounted spent all day Wednesday mounting a valiant campaign on why she should stay over Cliff Hogg III, repeatedly insisting to anything that could breathe that she would target Jackson Michie. That, of course, doesn't make sense to a lot of people since she's so close to him and Holly Allen, and the showmance is voting for Kat to stay. But her tears and desperate pleas were enough to make Nick Maccarone and Nicole Anthony feel really, really bad about voting her out.
Nicole felt so bad slash maybe she was egged on in the Diary Room that around 11 p.m., she told Jessica Milagros, who is voting to keep Kat, about the final six deal between her, Cliff, Nick, Tommy Bracco, Christie Murphy and Analyse Talavera because she feels awful that Jess isn't part of that. (To be fair, Cliff had told Nicole earlier that he hates that Jess is not part of it too, but she has three chances to win HOH before it gets down to six.)
SEE 'Big Brother 21 spoilers: Tommy and Christie can't get on the same page, and we've been waiting for this day
Jess then immediately decided to spill this NuSix to Holly, who was not surprised, and she relayed it back to Jackson, who initially didn't buy it. Then as the NuSix were checking in on Nicole in the RV room, Jess decided to bound in, announce that "I heard it" and storm out. This led to a nearly two-hour one-on-one between her and Analyse that included about 489 "likes" and 377 "literallys." Great meeting of the minds here. Jess confronted Analyse about the NuSix, playing it off as she "heard it" walking by and not from Nicole, and Analyse, obviously, denied, denied, denied. This is when Tommy's reluctance to shake it with Cliff this week worked to their advantage. Yes, there is a deal to protect themselves from Cliff in exchange for them keeping him, but they can all claim it's not an official alliance.
But this whole thing got off the tracks once Jess told Analyse that Holly said Analyse flirted with Jackson and that Analyse was a mean girl because she made fun of Cliff running in a comp. Analyse was offended and denied mocking Cliff and that she's a mean girl, and obviously her big takeaway from this entire conversation was that Holly called her a mean girl, and she couldn't let go of it the rest of the night. Naturally.
And then everything devolved from there. Analyse, Christie and Jess hashed it out over who heard what, how the NuSix isn't an alliance, etc. Holly later told Christie and Analyse that Jess told her about the NuSix, who were planning to target her, Jackson and Jess. Christie denied there being an alliance and called everyone a liar, which is LOL.
During all of this, Nicole told Kat around 2 a.m. that she's going to keep Cliff, and Kat thanked her for her honesty. With her back truly up against the wall now, Kat decided to tell Nick all about Cliff's Angels and then guilt-trip Cliff for linking up with a new group and betraying Cliff's Angels and Jess.
Kat: "I am really disappointed in you."
Cliff: "It's the only way that I can stay."
Kat: "It's a f—ing game. You gave Jess your word. … Stand up for what you believe in. Stand up for the things you told us that I thought you believed in. I am just disappointed."
Cliff: "I'm sorry."
SEE Sorry, Kat, 65% of America wants you evicted from "Big Brother 21′
It's clear what Kat was trying to do, but where she was really reaching was when tried to gaslight Cliff into thinking that Cliff's Angels formed last week so she could call him a disloyal flip-flopper. Cliff knows it formed earlier — during his HOH — but what he doesn't know is that Kat was playing both sides then, as a mole for the Six Shooters, so he couldn't counter with that. The best part of the whole night was that while everyone else was in hysterics and tears, Cliff was just calmly defending and explaining himself. Live look inside Cliff's head: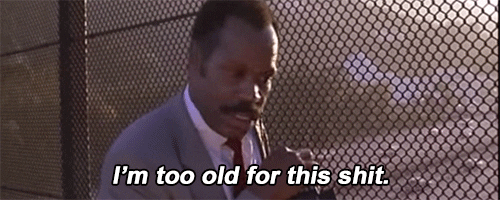 via GIPHY
Nick then confronted Nicole about Cliff's Angels, telling her he can't protect her if she's not upfront with stuff like this because he tells her everything. Do you though? Nicole said she didn't think it was relevant. By the end of it all, the NuSix were still voting out Kat, who lamented to Holly and Jackson about how her game is blown.
"Yours and mine, and you can thank Jessica," Holly said.
"My game is f—ed," Kat stewed.
"Your game is f—ed? Everybody's game is f—ed," Jackson declared.
He is not wrong. And it is all because of Jess. Sure, Nicole lit the match by telling Jess about the NuSix, but Jess did not have to go blabbing it to the whole house. If she wanted to save Kat, all she needed to do right then and there was convince Nicole to flip. And Nicole was ripe for the taking. She already felt bad about evicting Kat, and her whole justification for why she should keep her was that Cliff has proven himself in the game, so Kat deserves a chance to prove herself as well. What?
SEE 'Big Brother 21': 4 reasons why Cliff can defy the odds and win
Jess could've spent that two hours she and everyone with brain cells lost with Analyse trying to sway Nicole. Instead, she blew up her own spot, Kat's and Nicole's even if she never uttered her name. And now Cliff's Angels is out in the open. Jess has too many blinders on for this game. She still can't see what a manipulative player Christie is and is unaware of how tight Kat, Holly and Jackson truly are. She believes she and Kat are each other's No. 1s, and while Kat no doubt loves Jess, her ride-or-die is Holly.
And spare a thought for Nicole. No, she shouldn't have told Jess about the NuSix, because keeping Cliff is better for her own game, but every time she confides in her ostensible allies, they go and run their mouths. Isabella Wang betrayed her after she told Bella that she and Nick were targets. Kat told Tommy that Nicole had told her that Nick had said Tommy might put Kat up. Nick is a weasel who berates her like a child when he's not pleased with her, and even Nicole admitted she doesn't know if he's just blowing smoke up her ass sometimes. And now Jess "heard it" and Kat exposed Cliff's Angels. If she really thinks about it, her only ally who hasn't screwed her over is Cliff.
But the joke's on us and Kat. This craziness went down and the vote still hasn't changed. She still has all day Thursday to turn things around, but it doesn't look good. But after this blowup, the next HOH is more critical than ever.
PREDICT Who will win 'Big Brother'?
Be sure to make your predictions to influence our racetrack odds. You can keep changing your predictions until just before the next live episode airs on CBS. You'll compete to win a spot on our leaderboard and a $100 Amazon gift card. See our contest rules and sound off with other fans in our reality TV forum. Read more Gold Derby entertainment news.
SIGN UP for Gold Derby's newsletter with experts' latest predictions