Monty Brinton/CBS
Well, that was fun while it lasted. The universe granted our wish (and Jackson Michie's) on Friday when Christie Murphy lost America's Field Trip to become the third nominee on "Big Brother 21." Everything was lining up for her eviction on her ride-or-die Tommy Bracco's HOH. We manifested it! But then the universe turned on us a day later with Tommy winning the veto (in OTEV), which means Christie is definitely coming off the block. Why, universe, why?! Guess this is how Christie feels being voted into that comp. Except we're not crying about it. So now what could've been a delicious week has devolved into a snoozefest with either Cliff Hogg III or Kathryn Dunn leaving on Thursday (likely the latter).
Since Christie was the third nominee via America's vote/the Field Trip, there won't be a renom after Tommy takes her off on Monday. And he's definitely taking her off. It's such a foregone conclusion that there's nary been any discussion in the house or campaigning to him about not using it on her since he won it on Saturday. His ostensible reason is that he only wants two nominees on the block and he would use it to save whoever the third nominee is.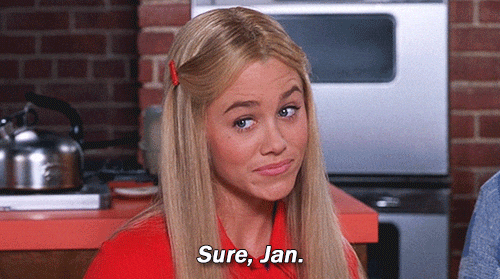 via GIPHY
SEE 'Big Brother 21' episode 21 recap: Who did Tommy nominate for eviction?
That's a convenient excuse, but we all know why he's really saving Christie. Yes, it's expected that anyone would save their closest ally in the house, but their relationship outside of the house is really giving them an unfair advantage here. If Christie and Tommy had just met as strangers on the show and became BFFs, he may consider leaving her on the block and booting her to advance his game. Plus, he would not get any blood on his hands because he could be like, "I didn't nominate you; America did!" But since she dated his aunt for seven years and was so close to him she calls him Thomas, he's definitely not budging. Grab your popcorn for when the rest of the house finds out about their real-life bond at the end of the season (hopefully it'll be before, but we're not counting on it).
Also, Christie remaining on the block and getting evicted on Tommy's HOH would've been suh-weet. How many more times would she have cried? I estimate 85,0713. She and Analyse Talavera are still in denial that America hates them and cannot fathom why they would hate them. Look, Jackson is far from the greatest, but props to him for not being a delusional dumbass. He knows and understands why they are disliked and was all, "It is what it is, I'm gonna win this comp." The best part of Sunday's episode was him constantly asserting to everyone that the three of them are hated, and that's why they were in the comp (second best part was his barely contained glee when Christie lost). Jackson spent the rest of the weekend trying to make them accept the truth, but Christie and Analyse still cannot handle it.
SEE 'Big Brother 21': America's Field Trip results
"I'm so pissed cause [Christie] is on the block right now and we are not able to get her out," Holly said to Kat.
"Did you hear her reasoning why she is on the block?" Kat asked. "Because she has always wanted to compete in OTEV. You are on the block because America hates you."
Dear Christie: Self-awareness can go a long way.
So either Cliff or Kat will leave on Thursday, which is a huge loss for us and for the underdogs that now include Jackson and Holly Allen as they were all ready to evict Christie this week. Tommy wants Kat gone, and right now it looks like it will go that way because that side finds her more "dangerous" than Cliff, who injured himself during OTEV. Plus, Tommy is scared of the house being 6-3 in favor of the women if Cliff leaves.
Nick Maccarone, weasel that he is, has now wormed his way back into Tommy, Christie and Analyse's graces. He revealed in the DR on Sunday's episode that he is now fully committed to that side because he trusts them and they are "better competitors than the other side." OK, well, first of all, Nick, they were the ones who blindsided you with that vote to evict Cliff and then tried to get you out. Second of all, the other side has won more comps combined. But you do you.
Tommy is still desperate to reunite the Six Shooters, and they all believe Holly and Jackson will crawl their way back to them after Kat is gone. The couple, however, wants nothing to do wit the Six Shooters anymore, but can't really do anything about it this week with all the power in Tommy's hands. "The thought of working with Christie makes me sick to my stomach," Jackson said.
SEE 'Big Brother 21's' Jack: I hope Kemi accepts my apology
Nick's idea of a six is him, Tommy, Analyse, Christie, Cliff and Nicole, with Cliff and Nicole cut at fifth and sixth. "If we keep Cliff, he will go right after Michie and Holly," he argued.
"I want a deal [from Cliff], at least until after the double, that me, Sis and Tommy are not going up," Christie said, still peeved that Cliff didn't take Jack's deal.
Both Kat and Cliff did some light campaigning on Sunday, with the former telling Christie that she would put up Holly and Jackson tomorrow if she could, but Christie is still ready to cut Kat loose. Nicole has also promised her vote to Cliff because she's closer to him than to Kat, and so far on Jess has promised her vote to Kat. "If everybody is going to vote Kat out, I will probably still vote her [to stay]," Jess told Analyse. "That's just what you do for people that have your back unconditionally."
There's still three days to go before the eviction, but right now, these bitches are conspiring against Kat.
PREDICT Who will win 'Big Brother'?
Be sure to make your predictions to influence our reality TV racetrack odds. You can keep changing your predictions until just before the next live episode airs on CBS. You'll compete to win a $100 Amazon gift card and a spot on our leaderboard. See our contest rules and sound off with other fans in our reality TV forum. Read more Gold Derby entertainment news.
SIGN UP for Gold Derby's newsletter with experts' latest predictions