Jennifer Clasen/HBO
The nominations for the 2019 Emmys haven't even been announced yet, but the 2020 season is already in full swing and has seen some of its first contenders grace the screen, like HBO's "Big Little Lies," which returned for its second season after a two-year hiatus on June 9. Now five episodes in, the season is already filled with many memorable, high-caliber performances from the star-studded cast, including newest addition Meryl Streep, but it's Laura Dern as Renata Klein who is proving to be one of this season's biggest scene-stealers.
When we first meet Renata last season, she's a snooty and unbridled, yet powerful and determined woman. Scenes such as her condescendingly treating Jane (Shailene Woodley) like a nanny because of her appearance, or her repeatedly pointing to Ziggy (Iain Armitage) during a season-long quest to seek out her daughter Amabella's (Ivy George) bully, sometimes made her tough to swallow. By season's end, her behavior can be put into perspective and becomes much more relatable in the process: She's just a worried mother who's genuinely concerned about the well-being of her daughter. For her performance, she nabbed the Best Limited Series/TV Movie Supporting Actress Emmy and Critics' Choice Award, as well as the catch-all supporting actress Golden Globe.
SEE Will 'Big Little Lies' star Zoe Kravitz be the last of the Monterey Five to get Emmy love in 2020?
In Season 2, everything is going seemingly well for Renata: Time has passed since the traumatic events at Trivia Night, her daughter is starting second grade, and she's about to be on the cover of the top women's magazine in the country. But things drastically take a turn for the worst when her husband Gordon (Jeffrey Nordling) is arrested for securities fraud and they inch toward complete bankruptcy. And if that wasn't already enough, a lecture on climate change in school and overall tension at home put Amabella in the hospital after she faints in a school closet.
At this point, Renata is a rumbling volcano that you're waiting to see erupt, and Dern portrays her in triumphant fashion. While much of Renata's backstory is still unknown, we find out that she grew up poor and doesn't ever want to, you know, not not be rich again.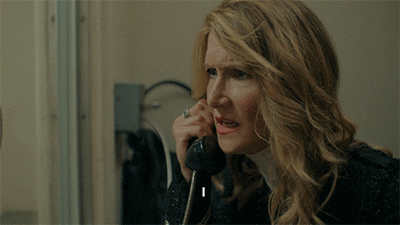 via GIPHY
Like in Season 1, Dern is able to balance comedy with drama in a way that her performance can be unapologetically over the top, at times almost scenery-chewing, without being cartoonish or facetious. Yes, you just want to eat up some of her one-liners with a spoon, but they're only effective because Dern caps off her performance with an undercurrent of constant fear and pain.
Take Renata's car scene with Gordon in the second episode, "Tell-Tale Hearts," in which she lashes out after he calls her a wanter, or when she unabashedly insults the school principal and Amabella's teacher in the third episode, "The End of the World." Dern's comedic timing in both scenes is excellent, but she also conveys her fear of becoming bankrupt with her delivery of lines like "I will not not be rich." Trying to make clear to others that her situation will improve is a coping mechanism, a way to reassure herself that everything will ultimately be fine.
SEE Could Robin Weigert get an Emmy boost for 'Deadwood' while she's on 'Big Little Lies'?
Such loud moments only work when they're balanced out with very subtle, even silent ones. During the bankruptcy hearing in the fourth episode, "She Knows," the camera is on Dern's face after Renata's told to remain calm and take off her wedding ring; since Renata is such a direct, loquacious person, her moments of silence allow Dern to do some of her best work because that's when she gets to pour out of all of Renata's vulnerability and emotional pain.
Looking ahead to her 2020 Emmy chances, there's still a lot of unclarity as to what her environment will look like. For starters, "Big Little Lies" will have to compete in the drama races this time, after winning all its awards as a limited series, and Dern might have to face internal competition if she's submitted in supporting alongside Zoe Kravitz, Streep and Woodley. Then, of course, there are other heavy hitters such as "The Crown," "The Handmaid's Tale," "Stranger Things," and "Westworld" that will be back in the running after sitting out this year's cycle.
But if Dern's run for Season 1 says anything, then that there is support for her "Lies" performance from the industry. Now with arguably even more juicy material, she looks like a safe bet to return to the Emmys, even if they're over a year from now. Even after Season 2 ends, she could stay in the conversation not only through early precursors like the Globes and SAG Awards, but also through her two upcoming movies, Greta Gerwig's "Little Women" and the untitled Noah Baumbach movie, which is set to be released sometime later this year.
PREDICT the Emmys now; change them until July 16
Be sure to make your Emmy predictions today so that Hollywood insiders can see how their TV shows and performers are faring in our odds. You can keep changing your predictions as often as you like until just before nominations are announced on July 16. And join in the fun debate over the 2019 Emmy taking place right now with Hollywood insiders in our television forums. Read more Gold Derby entertainment news.
SIGN UP for Gold Derby's free newsletter with latest predictions