Sonja Flemming/CBS
"Celebrity Big Brother 2" live feeds started Tuesday night and there were quite a few big takeaways: There are two Diary Rooms, there were two Vetos played, Tamar Braxton and Kandi Burruss still hate each other, and Anthony Scaramucci is nowhere to be found.
Where in the world is the Mooch? Well, unbeknownst to the houseguests, the Mooch was at a conference in Davos, Switzerland, on Wednesday. But more importantly, why is he gone? The Mooch said in Switzerland he couldn't reveal why, naturally. Was this a Keshia Knight Pulliam situation (sans breast milk) and he begged to leave? Did he try to escape like Metta World Peace and actually did? Did he realize the "Big Brother" house is way tougher than the White House and he'd never outlast his 10-day stint at the latter? Possibly. But based on conversations between the houseguests Tuesday night, many of them believe the Mooch was part of a twist and not a real houseguest.
SEE 'Celebrity Big Brother 2' spoiler: Who bolted from the house?
Now this could just be everyone spewing conspiracy theories and trying to figure out what happened like we are now. A convo between Natalie Eva Marie and Lolo Jones circa midnight basically revealed this timeline:
– Ricky Williams won the Veto on Day 4 and didn't use it
– The Mooch was revealed to not be a real player and left the game
– Kandi was renominated in his place on Day 6
– Kato Kaelin won the second Veto, which we know from his chat with Tom Green that he plans to use it on him
Once Kato uses the Veto on Tom, this means Ryan Lochte has to name a replacement, so he's giving Cody a run for his money for the number of nominees he has to name. Joey Lawrence looks like the probable renom as of Wednesday morning.
But anyway, was the Mooch just part of a twist? You'd think Julie Chen Moonves would give us viewers a heads up about that, but maybe TPTB think they're being so clever and sneaky by withholding that. These are the same people who claim that Battle of the Block is a "fan favorite."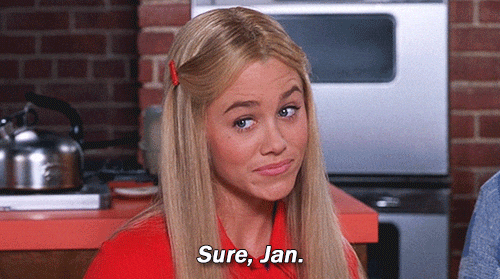 via GIPHY
Obviously the Mooch was cast to be the Omarosa of the season, so would producers really just bring him on as a faux houseguest or a mole or whatever for less than a week and bounce him? If he was part of a twist, the reveal ought to be better executed than this. Is it really worth it to have him there less than a week? This ain't their first rodeo. There would be buildup, suspense and a payoff (hopefully — they've had a lot of twists flop). And based on everyone's confusion, it's safe to say there was no big blow-up or fight involving the Mooch inside the house that would've necessitated an automatic dismissal.
SEE You're gonna want to save this: The complete 'Celebrity Big Brother 2' TV schedule
So did the Mooch just quit? Possibly, but he's such a fame whore and doesn't really come off as a homesick type (though I guess no one would've really expected that of Metta either). And his whole storyline was about lasting longer on "Celebrity Big Brother" than in the White House.
Plus, in a pre-season interview, executive producers Allison Grodner and Rich Meehan told The Hollywood Reporter that this cast was aware of the backlash to Keshia and Metta pleading to quit last year, and producers have talked to them to discourage that this season. "We talked a lot before the game about getting evicted the right way or winning as the two ways you can leave the house," Meehan said. "We talked to all of them about that."
If the Mooch did just quit, why not just leave it at two nominees instead of making Ryan renominate Kandi? The renomination is likely why there was a second Veto so Kandi would have a shot at saving herself.
Hopefully we'll get some answers on Wednesday's episode. Maybe this is all just fake news.
SEE exclusive odds: Who will win 'Celebrity Big Brother'?
Be sure to make your predictions so that the CBB contestants can see how they're faring in our racetrack odds. You can keep changing your predictions until just before the next live episode airs on CBS. You'll compete to win a spot on our leaderboard and a $100 Amazon gift card. See our contest rulesand sound off with other fans in our reality TV forum. Read more Gold Derby entertainment news.
SIGN UP for Gold Derby's newsletter with experts' latest predictions