Sonja Flemming/CBS
You probably thought no one would ever be as dumb as again on "Big Brother." Well, you're wrong. After getting nominated alongside Ricky Williams by Tom Green on "Celebrity Big Brother" on Tuesday, Natalie Eva Marie is seriously considering not using the Veto if she wins it.
Following nominations on Tuesday, Natalie, Lolo Jones and ostensibly Tamar Braxton, who's trying to cover her tracks with them, had a ragefest about Tom and if and how they could prevent one of RiNaLo from going home. Ricky had already told them he'd fall on his sword and is fine with going home, which you know is a bunch of bull. They all know that if Natalie, whom Tom had initially told he wasn't nominating until Kandi Burruss talked some sense into him, or Ricky wins Veto and saves themselves, Lolo would be the replacement nominee. And just like Marcellas not wanting to save himself with the Veto because it'd cause more stress for others, Natalie said she could just not use it.
SEE 'Celebrity Big Brother 2' spoilers: Who was nominated in Round 5?
"If you use it, he is just going to put me on the block," Lolo said. "I know. I need a vote," Natalie said. "I won't use it."
Tamar said she's "scared" to take down Natalie if she wins it because Lolo would just go up. "I'm OK with not using it," Natalie insisted.
SEE 'Celebrity Big Brother 2' spoilers: Will Tom Green learn from his disastrous mistakes?
No, woman, no! If you win it, always save yourself! If you can control your fate against someone you know is gunning for your side, take it. Although it would be hilarious for Natalie to throw her game away for Lolo of all people. Lolo, for her part, promised she wouldn't let Natalie not use the Veto on herself unless she can secure Dina Lohan's vote to ensure Natalie stays. Right now, she has Lolo's and they believe Tamar's. But Tamar's just putting on a show to take the heat off of herself for convincing them to save Kandi over Joey Lawrence, because she had told RiNaLo they could scoop up Kandi. And now she's trying to make it look like Kandi "betrayed" her good word by working with Tom.
SEE 'Celebrity Big Brother' spoiler: Did Power of Veto ceremony change eviction line-up?
As for Dina, she may be super low-key in the house, but she knows what's up. "Natalie is the biggest threat right now," she told Tom before the nominations. "She swindled the guys downstairs, ditched them, went to you guys. I was like, 'They are going to screw you too.'"
This is all a moot point, of course, if Natalie doesn't win the Veto. If she does pull a Marcellas, Julie Chen Moonves will have to knock some sense into her too.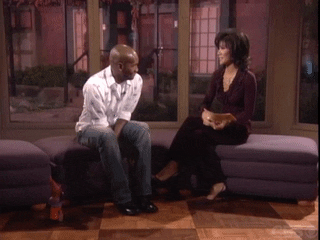 via GIPHY
SEE exclusive odds: Who will win 'Celebrity Big Brother'?
Be sure to make your predictions so that the CBB contestants can see how they're faring in our racetrack odds. You can keep changing your predictions until just before the next live episode airs on CBS. You'll compete to win a spot on our leaderboard and a $100 Amazon gift card. See our contest rules and sound off with other fans in our reality TV forum. Read more Gold Derby entertainment news.
SIGN UP for Gold Derby's newsletter with experts' latest predictions