Monty Brinton /CBS
Remember the Power Apps on "Big Brother 20"? And how they were a complete fail? Well, it's déjà vu all over again "Celebrity Big Brother." Last week, the show introduced the Power of the Publicist twist, which gives the winner the power to take him or herself off the block at two nomination and Veto ceremonies by Monday, Feb. 4, which is when the second live Veto and fourth eviction will take place. Cool idea, guys, but just like those Power Apps, it's not going to be used at all.
Tamar Braxton won the Power of the Publicist last week, but avoided the block when Tom Green nominated Joey Lawrence and Kandi Burruss, hoping to flush the power out of one of them. Then Natalie Eva Marie didn't use the Veto, so the nominations stayed the same and Joey went home. One eviction down, one to go.
SEE 'Celebrity Big Brother 2' spoilers: Sigh, Tom Green has screwed up his own game
Well, Tamar didn't even have to worry about having to use the power this week because she won HOH on Saturday night and nominated Tom and Kato Kaelin for eviction. This is the absolute perfect scenario for her. She had never told anyone she had the power, letting the paranoia fester in Tom's mind and detonate, completely ruining his game. And now she'll never have to reveal she has it until she's out of the house or if she makes the final and wants to mention it in her speech as a game move.
SEE 'Celebrity Big Brother 2' spoilers: The HOH for Round 4 is…
So another season, another busted twist. You can argue that the Power of the Publicist did work since it caused Tom's meltdown and tore the house into Team Tomato and Not Team Tomato. There was 49,533 times more drama in the last six days — most of which has not been show in the TV broadcasts — than there was in the first two weeks. So yes, it served its purpose to shake up the house with its mere existence, but it still won't be deployed, which is what TPTB really want. The other houseguests still don't know what it is or what it does, and we're definitely not going to get that moment of someone nominating Tamar and her being like, "SURPRISE BITCH." It would've looked something like this: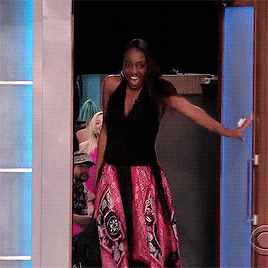 via GIPHY
Alas, we'll have to file the Power of the Publicist away as another flop. Between this and Anthony Scaramucci not being a "real houseguest," "CBB" is one more lame twist away from a total strikeout.
SEE exclusive odds: Who will win 'Celebrity Big Brother'?
Be sure to make your predictions so that the CBB contestants can see how they're faring in our racetrack odds. You can keep changing your predictions until just before the next live episode airs on CBS. You'll compete to win a spot on our leaderboard and a $100 Amazon gift card. See our contest rulesand sound off with other fans in our reality TV forum. Read more Gold Derby entertainment news.
SIGN UP for Gold Derby's newsletter with experts' latest predictions