ABC
Hey, "Dancing with the Stars" fans. Remember Alexis Ren and Alan Bersten's nauseatingly scripted showmance last season? (Sorry if you were trying to forget.) Well, after that one and only dip into the showmance pool, Bersten has made a wise decision and is ruling out future showmances once and for all.
"No more showmances for me," he told Us Weekly. "I'm done!"
Also done? His and Ren's relationship. The pair basically broke up in December, but he downplayed it at the time and said they're still taking. That's not the case anymore. "Oh, that's a good question!" he told the magazine when asked if they were still in touch. "I haven't spoken to her in a while. I'm not gonna lie. I'm gonna be honest."
We appreciate the honesty, Alan. Especially since you were clearly uncomfortable with the shoehorned showmance and did your best trying to prevent your lips from meeting hers on the finale.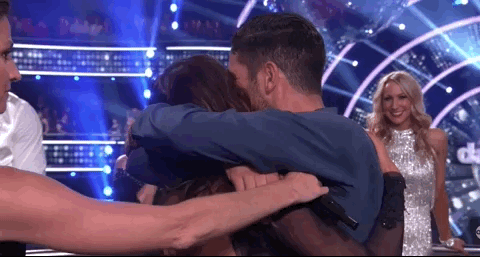 Yup, still cringe-worthy.
Renten's showmance started after the model shared out of nowhere in a talking head that she was "developing feelings" for Bersten. It then evolved (or devolved, depending on how you look at it) into a mutual proclamation of "feelings" from him on a horseback riding date and one of the most contrived on-camera kisses ever.
SEE In case you forgot, 'Dancing with the Stars' is not airing this spring
The pair said they were ready to give their relationship a go in the real world after they finished in fourth place, but two weeks later, they revealed that their showmance had cooled and they've gone their separate ways. "You know, we're talking. She's in Japan right now and I'm about to go on tour, so we'll see," Bersten said at the time.
Bersten is currently "getting ready" for Season 28, which premieres in the fall (remember, no spring season this year), so that's pretty much confirmation that he'll be back as a pro. Despite "Dancing" getting downsized to one season this year, he believes the reality stalwart will stay on the air "for a while."
SIGN UP for Gold Derby's free newsletter with latest predictions