It took just one episode, but Alan Bersten has found himself smack dab in the middle of another "Dancing with the Stars" showmance rumor — emphasis on "rumor."
It doesn't really help that he's paired with "The Bachelorette" star Hannah Brown or the fact that their meet-cute package was a "Bachelorette" riff. And then there were all those comments from Bruno Tonioli about Brown finally finding love (with dance) and Erin Andrews clarifying she said "make up" and not "make out" while discussing a Brown-Bersten tiff. But there's nothing to see here, folks.
"Look, we're having a great time," Brown told "Entertainment Tonight" (watch above).
SEE 'Dancing with the Stars' power rankings (Week 1): At least one celeb was way better than the judges gave them credit for
"I'm gonna make her fall in love with dancing," Bersten quipped.
While Brown has no issue looking for love on TV, Bersten made it clear earlier this year that he is "done" with showmances after his awkward, very short-lived one last season with Alexis Ren. #neverforget this, uh, kiss.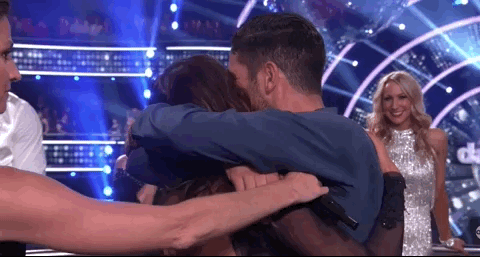 The pair split two weeks after Season 27 ended and no longer speak.
But Brown and Bersten understand the speculation comes with the territory, especially given the way her season of "The Bachelorette" ended after her betrothed Jed Wyatt was revealed to have had a girlfriend back home the whole time. She, however, doesn't want her love life to be her main talking point on "Dancing." "I think everybody has had this journey with me and it's been focused on finding a person that I'm going to spend my life with, but right now that's not what I'm focused on," she said.
""She's forced to spend the next few months with me," Bersten joked. "You have no choice, Hannah."
PREDICT Who will win 'Dancing with the Stars'?
Be sure to make your predictions so that the contestants can see how they're faring in our racetrack odds. You can keep changing your predictions until just before the next episode airs every Monday on ABC. You'll compete to win a spot on our leaderboard and eternal bragging rights. See our contest rules and sound off with other fans in our reality TV forum. Read more Gold Derby entertainment news.
SIGN UP for Gold Derby's free newsletter with latest predictions