Jordan Strauss/Invision/AP/REX/Shutterstock
What a difference a shocking upset and one helluva speech make. Glenn Close was in third place in our Best Actress Oscar odds going into Sunday's Golden Globe Awards, but after her upset Best Drama Actress win for "The Wife," she's already climbed back up to second place in our combined odds.
With the support of seven Experts, six Editors and nine of our Top 24 users, Close has inched past Best Comedy/Musical Actress Globe champ Olivia Colman ("The Favourite"), who has seven Experts, one Editor and six Top 24 users backing her. They're both still behind Lady Gaga ("A Star Is Born"), who's the pick of 15 Experts, two Editors and eight Top 24 users. Melissa McCarthy ("Can You Ever Forgive Me?") and Emily Blunt ("Mary Poppins Returns") round out the predicted top five.
SEE Golden Globes: The good (Glenn Close), the bad (Amy Adams double snub), the ugly (lame jokes)
Close started the season as the Oscar favorite before "A Star Is Born" became a box-office and meme-supplying smash and Colman decided to go lead instead of supporting. Gaga soon dethroned Close, who slid to third place after a quiet critics run, which was ruled by Colman and Toni Collette ("Hereditary"). She was widely expected to lose the Globe to the far flashier Gaga.
But "A Star Is Born" underwhelmed at the Globes, converting just one of its five bids into a win, for Best Original Song. Judging by her slack-jawed reaction, Close clearly did not expect to triumph either.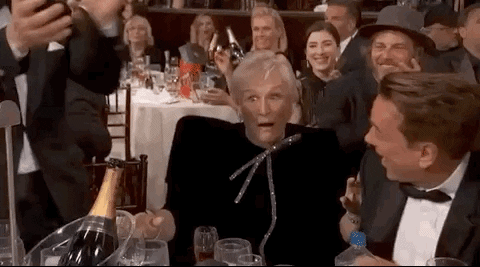 via GIPHY
After getting a standing ovation, she delivered a teary, emotional speech that covered every inch of ground she needed to, sharing the difficult 14-year journey it took to get "The Wife" made, reminding people of her legendary 45-year career, and paying tribute to her mother while tying in the empowering feminist themes of her movie.
"To play a character is so internal. And I'm thinking of my mom who really sublimated herself to my father her whole life and in her 80s she said to me, 'I feel I haven't accomplished anything,'" she said. "And it was so not right and I feel what I've learned through this whole experience is that, you know, women, we are nurturers, that's what's expected of us. We have our children. We have our husbands if we are lucky enough, and our partners, whoever. But we have to find personal fulfillment. We have to follow our dreams. We have to say, 'I can do that and I should be allowed to do that.'"
She got a second standing O, which felt like that sealed the deal for Oscar. Next order of business for Team Close: play up her 0-6 Oscar record.
But that doesn't mean Gaga or Colman are completely out of it. Conventional wisdom says Brit Colman will win BAFTA for playing a British monarch, which would give her a Globe and BAFTA combo, which eventual Best Actress Oscar champs Meryl Streep ("The Iron Lady," 2011) and Nicole Kidman ("The Hours," 2002) had. And a group as populist-leaning as the Screen Actors Guild could go for Gaga. But SAG likes its veterans too, many of whom it did get to award during their primes since the awards show is only a quarter of a century old, so if Close nabs SAG, she will not be ignored for Oscar.
PREDICT the Oscar nominations now; change them until January 22
Be sure to check out how our experts rank this year's Oscar contenders. Then take a look at the most up-to-date combined odds before you make your own Oscar predictions. Don't be afraid to jump in now since you can keep changing your predictions until just before nominations are announced on January 22.
SIGN UP for Gold Derby's free newsletter with latest predictions