Invision/AP/REX/Shutterstock
Glenn Close is ready for her Oscar Close-up. The long-gestating film adaptation of the Broadway musical version of "Sunset Boulevard" has found its Mr. DeMille to Close's Norma Desmond: Tony winner Rob Ashford will direct the film, which is set to start production in the fall. That means Close would ideally be back in the Oscar conversation for the ceremony in 2021. So close, yet so far again. But will this finally bring Close the statuette that has eluded her seven times already?
After her shocking Best Actress loss for "The Wife" to Olivia Colman ("The Favourite") on Sunday, the overdue narrative will be even more fierce in two years' time. If successful, "Sunset" would mark Close's eighth nomination — she has no projects scheduled for release this year, which is just as well because you'd hate for "Sunset" to be her potential ninth bid — and surely the academy wouldn't deny her again, would it? A handful of legends have also won their Oscar on their eighth nomination: Geraldine Page ("The Trip to Bountiful," 1985), Paul Newman ("The Color of Money," 1986) and Al Pacino ("Scent of a Woman," 1992).
SEE Don't worry, Glenn Close is feeling 'good' after her Oscar loss, but she was 'upset' for another reason [WATCH]
Close, who would be 73 by the 2021 Oscars (but the stars are ageless, aren't they?), has already twice played Norma Desmond, the delusional silent film star desperate for a comeback, to great acclaim on the stage: She won a Tony for Andrew Lloyd Webber's original 1994 production and returned to the role in the 2016 revival in London and New York. The original stage production won seven Tonys total, including Best Musical.
But after Sunday, Close fans have even more reason to tread lightly. The original 1950 film, which was not a musical, didn't win Gloria Swanson the Best Actress Oscar. But it was a deadly lineup that year with Bette Davis and Anne Baxter from "All About Eve," Eleanor Parker ("Caged") and champ Judy Holliday ("Born Yesterday"). And as "Feud: Bette and Joan" reminded us two years ago: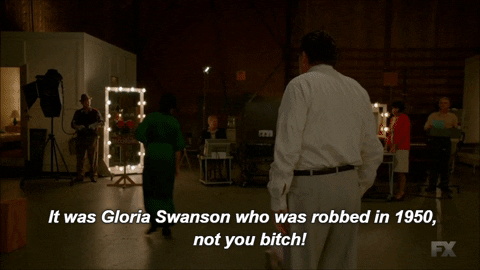 via GIPHY
It also depends if the film can successfully translate the book and musical numbers into a cinematic experience. "Sunset" will be the feature film directorial debut of Ashford, who won the Best Choreography Tony for 2002's "Thoroughly Modern Millie" and most recently directed NBC's musicals "Peter Pan Live!" and "The Sound of Music Live!" Will it be an auspicious film debut like Rob Marshall had with "Chicago"? Can he thrive under pressure to deliver Close her first Oscar?
But for now, we're just happy Close is back at the studio, making a picture again.
[interaction id="5c795793c31fa127d1274158″]
SIGN UP for Gold Derby's free newsletter with latest predictions