Graeme Hunter
Kendall Roy, Logan's Number One Boy, on "Succession" has become his No. 1 enemy — and perhaps at the Golden Globes too.
Both Brian Cox and Jeremy Strong are predicted to reap Globe nominations for Best TV Drama Actor, sitting in second and fourth place, respectively. Should they pull off the father-son double, they'd be the first pair of co-stars to be nominated in the category in 19 years.
Now, you might be wary of predicting two nominations for "Succession" in drama actor since the show didn't get a single acting nomination at the Emmys. But that could've been because "Game of Thrones" took up a gajillion slots. And lest we forget, last year, the Hollywood Foreign Press Association was the first major organization to nominate "Succession" for anything, in the wildly unpredictable supporting actor category for Kieran Culkin, so we already know voters watch it and like it.
Since then, the addictive, blistering satire has produced a practically flawless second season and has only grown in acclaim and buzz. Sure, the Globes can make some quirky picks here and there, but it also likes to be on — or preferably, ahead of — the pulse too. No one has nominated Cox or Strong anywhere (Matthew Macfayden received a Critics' Choice nomination last year), so the Globes would be the first to recognize them.
Both Cox and Strong put in incredible, polar-opposite work this season — the former of irascible rage, the latter of inward suffocation. It culminated in a finale that saw Kendall (Strong), after agreeing to be the "blood sacrifice," turn into the "killer" that Logan (Cox) said he wasn't (even though, you know, he's actually killed a man) and betray his father, exposing his complicity in the cruise ship scandal and creating a power vacuum at Waystar Royco.
It was a far cry from this dead-eyed guy.


via GIPHY
And Logan kinda, sorta, actually loved it.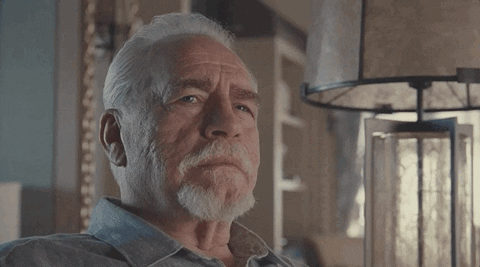 via GIPHY
With four of last year's drama actor nominees ineligible this year — only reigning Emmy champ Billy Porter ("Pose") could return — there's definitely room for the Roys to slide in, especially in a pretty weak field in terms of freshman shows. The last co-star duo to score nominations was "The West Wing's" Martin Sheen and Rob Lowe, who made the cut for the first and second seasons, with Sheen triumphing on the second go-around in January 2001. The erstwhile President Barlet earned three more bids in the category, but Lowe wasn't nominated again for his final two seasons on the political drama.
Prior to that, the '90s saw "ER" docs Anthony Edwards and George Clooney shortlisted for three consecutive years, with Edwards winning once. That double nominations haven't occurred since the turn of the century isn't all that shocking. Some nominees hang on to their slots for a few years, and the HFPA not only loves fresh faces but to spread the wealth too, so Peak TV has meant lots of new options all the time. (The Emmys has seen more double drama actor nominations recently, with "This Is Us" stars Sterling K. Brown and Milo Ventimiglia getting in the past three years and "Westworld's" Ed Harris and Jeffrey Wright in 2018, but before that, "True Detective's" Matthew McConaughey and Woody Harrelson in 2014 were the first pair to do it in 12 years.)
Porter is currently in first place in our odds, with Tobias Menzies ("The Crown") in second and Kit Harington ("Game of Thrones") in fifth.
PREDICT the Golden Globe nominations; change them until December 9
Be sure to make your Golden Globe nominee predictions today so that Hollywood insiders can see how their TV shows and performers are faring in our odds. You can keep changing your predictions as often as you like until just before nominees are announced on December 9. And join in the fun debate over the 2020 Globes taking place right now with Hollywood insiders in our television forums. Read more Gold Derby entertainment news.
SIGN UP for Gold Derby's free newsletter with latest predictions