If you're desperate for "Game of Thrones" Season 8 spoilers, Jimmy Fallon has got you. On Thursday's "Tonight Show," the host asked guest Kit Harington to confirm or deny some pressing rumors about the final season (watch above). A wink means yes and a blink means no.
Simple enough… if your subject can wink. Yeah, you see, Harington, a 32-year-old grown man, cannot wink. Because Jon Snow knows nothing (about winking). Harington valiantly tries, curling his right eye muscles, but his whole face just collapses into itself and he ends up doing what Fallon dubs a "wink-blink." It's kind of cute and sad.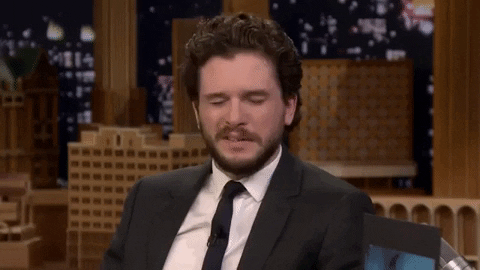 via Giphy
Fallon busted out three shots from the trailer and grilled Harington: Does a sword in the snow mean Jon Snow is dead? Does a photo of flames and destruction mean everyone dies? Does Jon Snow get to ride a dragon?
SEE Leslie Jones wants first-time host Kit Harington to 'bend the knee' in this hilarious 'SNL' promo: 'This is my fantasy!' [WATCH]
Harington abided by the rules and answered (to the best of his facial abilities). The bit pales in comparison to Maisie Williams' totally believable April Fools' Day prank, but it's worth it to watch Harington struggle to wink.
The Emmy nominee was on the show to promote "Game of Thrones" (duh) and his "Saturday Night Live" hosting debut, for which he did a hilarious promo with Leslie Jones, which he said was a "good induction" into the sketch series.
"The concept was that she's just been so excited about the 'Thrones' 'SNL' and she's mocking up all these different things," Harington told Fallon. "And then she gets me and I'm like, 'There's no one else here. We've not started 'SNL.'"
PREDICT the Emmy nominees now; change them until July 16
In the near future, you can check out how our experts rank this year's Emmy contenders. Then take a look at the most up-to-date combined odds before you make your own 2019 Emmy predictions. Don't be afraid to jump in now since you can keep changing your predictions until just before nominations are announced on July 16.
SIGN UP for Gold Derby's free newsletter with latest predictions