After some, uh, questionable posters, the first teaser trailer for Quentin Tarantino's "Once Upon a Time in Hollywood" is finally here, so feast your eyes on the best acting Leonardo DiCaprio has ever done — at least according to the little girl at the end.
Set in 1969, the film follows Rick Dalton (DiCaprio), a former star on a TV Western who's trying to break into movies, and his BFF and stunt double Cliff Booth (Brad Pitt).
"Actors are required to do a lot of dangerous stuff," Dalton says at the beginning of the clip. "Cliff here is meant to carry the load."
"Carrying his load? Yeah, that's about right," Booth says.
SEE Leonardo DiCaprio, Martin Scorsese developing 'The Devil in the White City' for Hulu, so earmark some Emmys for them
So that's the type of humor we're getting here. The two are neighbors of Sharon Tate (Margot Robbie), the Manson Family's most famous murder victim in that summer of '69. Blink and you'll miss a shot of Charlies Manson (Damon Herriman). The teaser features lots of kaleidoscopic shots of hippie Hollywood, a sequence of Pitt doing martial arts with Mike Moh's Bruce Lee, and DiCaprio declaring he's "Rick f—in' Dalton" while fighting back tears. It's truly the best part of the trailer. Give him an Oscar for this.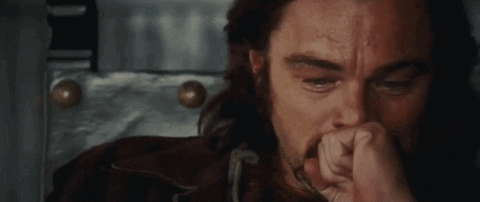 The film also stars Al Pacino, Tim Roth, Kurt Russell, Timothy Olyphant, Bruce Dern (who replaced Burt Reynolds after he died) and the late Luke Perry.
As one of the title cards notes, this is the ninth film from Tarantino, which means it's also the penultimate one if he sticks to his word that he'll only make 10 films. If "Hollywood" delivers, expect some Oscar nominations. Tarantino himself hasn't been nominated since he won Best Original Screenplay for "Django Unchained" (2012). This is also DiCaprio's first movie since he won the Best Actor Oscar for "The Revenant" (2015) and he could do worse when it comes to post-win follow-ups. He's Rick f—in' Dalton.
"Once Upon a Time in Hollywood" opens July 26.
SIGN UP for Gold Derby's free newsletter with latest predictions