WARNING: The following story and trailer contain spoilers about "Avengers: Endgame." Read and watch at your own risk.
#DontSpoilTheEndgame is over. Because the "Spider-Man: Far From Home" trailer is here and well, it's packed with spoilers galore about "Avengers: Endgame." The trailer, which dropped Monday, is preceded by a message from Spidey himself, Tom Holland, warning you to stay away if you haven't seen "Endgame," which is probably very few people since it just became the fastest film to cross $2 billion at the box office.
The very first seconds of the trailer confirms what we all suspected: "Far From Home" takes place after the events of "Endgame." Peter Parker is mourning the death of his mentor Tony Stark/Iron Man (Robert Downey Jr.), who sacrificed himself to snap away Thanos (Josh Brolin) in "Endgame." "Everywhere I go, I see his face," Peter says. "I just really miss him."
SEE Not today, Arya: Tony is the most heroic Stark, our readers declare
"I don't think Tony would've done what he did if he didn't know you were going to be here after he was gone," Happy (Jon Faverau), who's now the mentor/father figure in Peter's life, tells him.
Peter tries to take his mind off everything by taking a Eurotrip with his pals before Nick Fury (Samuel L. Jackson) tracks him down for his superhero services. Fury introduces Spidey to Quentin Beck/Mysterio (Jake Gyllenhaal), telling the teen that Mysterio is "from Earth, just not ours," and needs his help. "The snap tore a hole in our dimension," he reveals.
"We could use someone like you on my world," Mysterio says.
So, yeah, we're in a multiverse now — into the Spider-verse, if you will. In the comics, Mysterio is one of Spider-Man's oldest villains, but he's been presented and discussed by the stars as more of an ally to Peter in this film. But Mysterio is a hypnotist and illusionist, so could he just be fooling them all with this multiverse business?
Like in the first trailer, which leaned more into the "Aw, man, I'm so bummed my fun summer vacation is interrupted" vibe, Peter tries to get out of saving the world(s) to hang with his friends and crush MJ (Zendaya), who knows he's Spider-Man. He asks why can't Thor (Chris Hemsworth) or Captain Marvel (Brie Larson) do this, but the former is "off world" (probably with the Asguardians of the Galaxy) and the latter is "unavailable" (probably saving other planets). "I'm just a friendly neighborhood Spider-Man," he says, setting up a killer burn from Fury.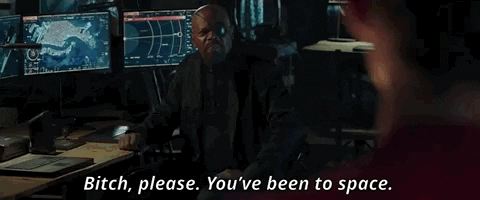 This is already iconic.
One thing the trailer doesn't answer is how many of Peter's classmates were snapped in "Avengers: Infinity War." When all the dusted people return in "Endgame," they're still the same age as they were when they were snapped, but it's five years later, in 2023, and we have a scene in "Endgame" of a despondent Peter embracing his BFF Ned (Jacob Batalon) in the hallways of their high school. It's unlikely his entire class was snapped, but it's probable that his social circle was, especially for convenient movie purposes. You know, like how the OG six Avengers all survived the snap.
"Spider-Man: Far From Home," the last film in Phase 3 of the Marvel Cinematic Universe, opens July 2.
SIGN UP for Gold Derby's free newsletter with latest predictions