The "Stranger Things" kids are facing their biggest foe yet: puberty. OK, well, not really, since there is a mess of a monster at the end of the brand new Season 3 trailer, which dropped Wednesday, but things are not the same between the gang with their adolescent years fast approaching.
"We're not kids anymore," Mike (Finn Wolfhard) says in the clip. "I mean, what did you think? We were just going to sit in my basement all day?"
Yes? Can't we all be kids again? You guys will get it when you're adults.
Season 3 is set in the summer of 1985, so the trailer is backed by Motley Crue's "Home Sweet Home" and The Who's "Baba O'Riley" for maximum mid-'80s nostalgia (also definitely not a coincidence they chose a song that contains the lyrics "teenage wasteland"). We see Eleven (Millie Bobby Brown) and Max (Sadie Sink) get closer, Billy (Dacre Montgomery) working as a lifeguard — and Mike's mom (Cara Buono) is still thirsting after him, judging by this new photo — and Dustin (Gaten Matarazzo) and Steve (Joe Keery) still being BFFs.
That's just the innocent stuff. Then we get shots of rats, Steve being injected in the face with a syringe, some nasty infection spreading in Billy's arm while he takes a show, and Hawkins' Starcourt Mall becoming the new hellscape. Oh, and there's this thing: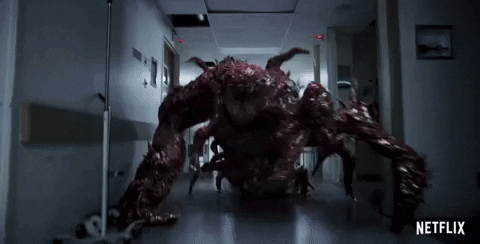 Lovely.
Season 3 also features new cast members Cary Elwes as Mayor Kline, Maya Hawke as Robin, Steve's coworker at the ice cream shop, and Jake Busey as a local journalist named Bruce.
The eight-episode season — one fewer than Season 2 — drops July 4, so it won't be Emmy eligible until next year.
SIGN UP for Gold Derby's free newsletter with latest predictions