Wednesday's "The Amazing Race" is dino-mite. Or at least one task is.
Leg 5 takes the top eight teams to Dubai, where one of the tasks is in its famous Dinosaur Park. And it goes without saying that the TPTB will not pass up the opportunity to have everyone dress up as these prehistoric beasts. So get ready for everyone running around as T-Rexes! As seen in the sneak peek above, the teams have to haul their dino tail around the park to collect five different colored glowing eggs. Look at how all those little dino butts wiggle! If no one says "hold on to your butts," then what is even the point?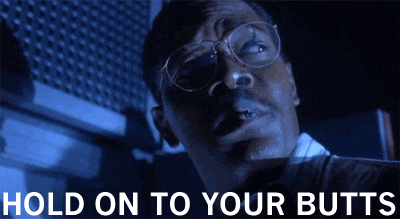 via GIPHY
"We had to put on a Tyrannosaurus Rex outfit and Bret [LaBelle] came around the corner and it was like Godzilla was in Dubai," Chris Hammons jokes. Not a joke: Bret accidentally running out of the park. But just like life, Bret, uh, finds a way.
SEE Don't forget 'The Amazing Race' returns at a new time this week (with a double episode!)
OK, enough "Jurassic Park" jokes. This dino task is in the first episode of Wednesday's two-hour block of "Race," which is to make up for last week's break for the "Survivor" finale. The second hour takes place in Uganda and features a Head-to-Head Battle. "Race" also moves to its new time this week, taking over "Survivor"'s time slot of 8/7c.
PREDICT the Emmy nominees now; change them until July 16
In the near future, you can check out how our experts rank this year's Emmy contenders. Then take a look at the most up-to-date combined odds before you make your own 2019 Emmy predictions. Don't be afraid to jump in now since you can keep changing your predictions until just before nominations are announced on July 16.
SIGN UP for Gold Derby's free newsletter with latest predictions