CBS
The season-long promo after the Season 31 premiere of "The Amazing Race" on Wednesday teased a new twist: the U-Turn Vote. But this is actually not a new twist at all — in terms of the "Amazing Race" franchise.
The U-Turn Vote has been used on four international versions of the show: Israeli, which first introduced it in its second season in 2011, Chinese, Australian and Filipino. How it works is exactly like it sounds: At the start of the leg, the remaining teams each vote for who should be U-Turned. The team that receives the most votes will be U-Turned and has to complete both Detours that leg. Simple enough.
SEE 'The Amazing Race 31' season premiere recap: Reality all-stars collide, but who's the first to go?
It's unclear if the American version will adapt this format completely or add its own little spin on it. Something tells us it might be the latter. Just to keep everyone on their toes, you know?
The itty bitty tease of the U-Turn Vote in the promo just shows Phil Keoghan announcing it to the racers and jaws dropping to the floor. It then cuts to Rachel Reilly pouting (shocking), "It's a million dollars," suggesting that she and Elissa Slater are one of — if not the — targeted U-Turn teams. Which is not surprising since Rachel is only one there who's been on "Race" (twice) and "Big Brother" (also twice).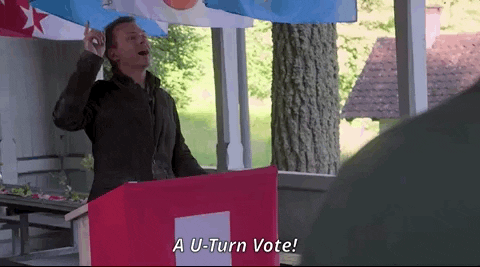 SEE Art and JJ ('Amazing Race' exit interview): This was the 'absolute nightmare scenario'
We also don't know when this U-Turn Vote will take place. The promo is careful not to reveal too many teams present for it, so the only teams we know for sure who will last until then are Rachel and Elissa, Colin Guinn and Christie Woods, Leo Temory and Jamal Zadran, and Becca Droz and Floyd Pierce. Interestingly, these were also four of the top five teams on the first leg.
SIGN UP for Gold Derby's free newsletter with latest predictions
'The Amazing Race 31': Meet the cast of 'TAR,' 'Survivor' and 'Big Brother' alums