CBS
The newest twist on "The Amazing Race" — the U-Turn Vote — will make its debut next week in the most democratic of locations, Switzerland. And this is one situation in which winning is actually losing. So which of the remaining seven teams do you want to "win" the vote?
As we previously explained, the U-Turn Vote is not new to the franchise itself; its long been a staple of the Israeli, Chinese, Australian and Filipino versions. The Israeli version introduced it on its second season in 2011. The U.S. version might tweak it, but it basically works as you'd expect: At the start of the leg, the teams each vote for who should be U-Turned. The team that receives the most votes will be U-Turned and has to complete both Detours.
Given all the U-Turn drama on Leg 7 between Rachel Reilly and Elissa Slater, and Nicole Franzel and Victor Arroyo, the U-Turn Vote could turn out to be a real doozy. It's not as simple as getting to the stand first to U-Turn your target; everyone can conspire and vote against you now.
On Leg 7, Becca Droz and Floyd Pierce, and Leo Temory and Jamal Zadran agreed not that the main U-Turn targets are Colin Guinn and Christie Woods, and Nicole and Victor. The Reillys went along with it before trying to "warn" their "Big Brother" alliance members that Team Fun wanted to U-Turn them, leading to a totally confusing fight and a hand-holding Kumbaya sesh led by Colin to curb the bickering.
SEE So, um, what the hell was that 'Big Brother' fight even about on 'The Amazing Race'?
Will Colin and Christie remain Team Fun and the Afghanimals' main target after Rachel and Elissa stirred the pot? Will Chris Hammons and Bret LaBelle choose sides after witnessing an awkward AF mat fight between the "Big Brother" duos?
All we know is Rachel and Elissa don't seem pleased.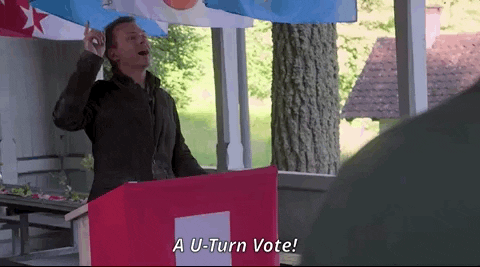 So which team would you vote for?
"The Amazing Race" airs Wednesdays at 8/7c on CBS.
[interaction id="5cefec5eda580f1a396a063b"]
SIGN UP for Gold Derby's free newsletter with latest predictions