If you were one of the people put off by Corinne Kaplan and Eliza Orlins' 'tude during their elimination on Wednesday's episode of "The Amazing Race," here's some good news: The entire thing wasn't as uneasy and awkward as what made the cut. Because obviously all the juicy stuff will end up in the episode.
An extended mat chat between Phil Keoghan, the "Survivor" alums, and Rachel Reilly and Elissa Slater (watch above) actually features some level-headed discourse. It's unclear if this took place before Corinne and Eliza walked to the side to cry, as was shown in the episode, or if they cried, composed themselves and returned for the mat-terview. Phil notes that there doesn't seem to be any love lost between the two teams, to which Elissa says, "We love supporting women and we were in this with our girls and really hoping we would bond with other female teams and really push through together, so I don't know if that was reciprocated. But I'm sure there's not a lot of love now."
SEE Corinne and Eliza ('Amazing Race' exit interview) on the Reilly sisters: 'We don't have anything against them'
Corinne just shakes her head and starts talking about transitioning from a "Survivor" vet to a "Race" novice. "To be newbies in a game that is so incredibly difficult and there are so many nuances to it, it's been a struggle for us the whole way. We obviously knew going in that [Rachel and Elissa] were a really powerful duo and not just them, but a lot of the returning players are," she says. "We made a lot of mistakes that maybe we wouldn't have made had we known better. There's a huge amount of paranoia and panic in our little duo, which we tried out best to manage."
All of the non-"Race" teams have mentioned how much harder "Race" was than they had expected, but it might be hard to top Corinne's revelation: She thought this would be like a vacation. Girl, what? This is not "Survivor." (Corinne has since told Gold Derby that she had not seen "Amazing Race" before she was cast.)
SEE Corinne and Eliza's 'Amazing Race' elimination was cringe-worthy as hell
"Both of us have high-powered jobs. We do everything with a sense of urgency and we're challenged every day of our lives. And we were hoping this would be vacation-y," she admits. "Like we thought this would be so much more fun." (To be fair, Eliza says she knew it would not be vacation-y.)
"It's not a vacation, this 'Race,' no," Phil responds with a bemused smile.
While Eliza says she's open to visiting Vietnam again one day, Corinne has completely ruled it out, much to Phil's shock. "I will never visit Vietnam again," she vows. "No, no thank you. It's a no from me, dawg."
While you watch this interview, be sure to keep an eye out for Rachel and Elissa's low-key smirking in the background while Eliza recounts their struggles during the leg. This is the content we came here for.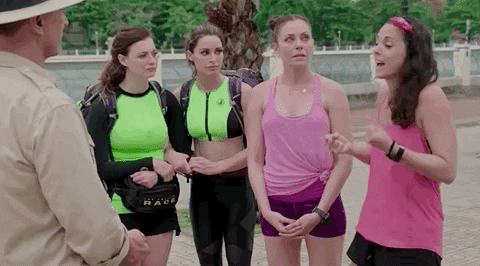 SIGN UP for Gold Derby's free newsletter with latest predictions